In "La beauté est dans la rue – Paris Street Art Part Une", the first part of a two part account of the street art seen in Paris on a four day visit earlier in 2023, an unconvincing pretence at structure was attempted. Random labels like "stencils" and "murals" were peppered about to give some logical order to a few of the 1,000+ photos taken on that brief visit. This left open the possibility of making up more labels in a futile attempt to shoehorn the myriad forms of Parisian street art into a few more categories, so welcome to "Paris Street Art Part Deux.
PASTE UPS
Usually my favourite form of street art and the form most amenable to the widest participation, Paris is certainly not short of paste ups addressing almost every subject under the sun. In Shoreditch paste up artists face extreme competition for space whereas in Paris there is order, in fact Paris paste up art seems to accidentally fall into an art salon gallery arrangement.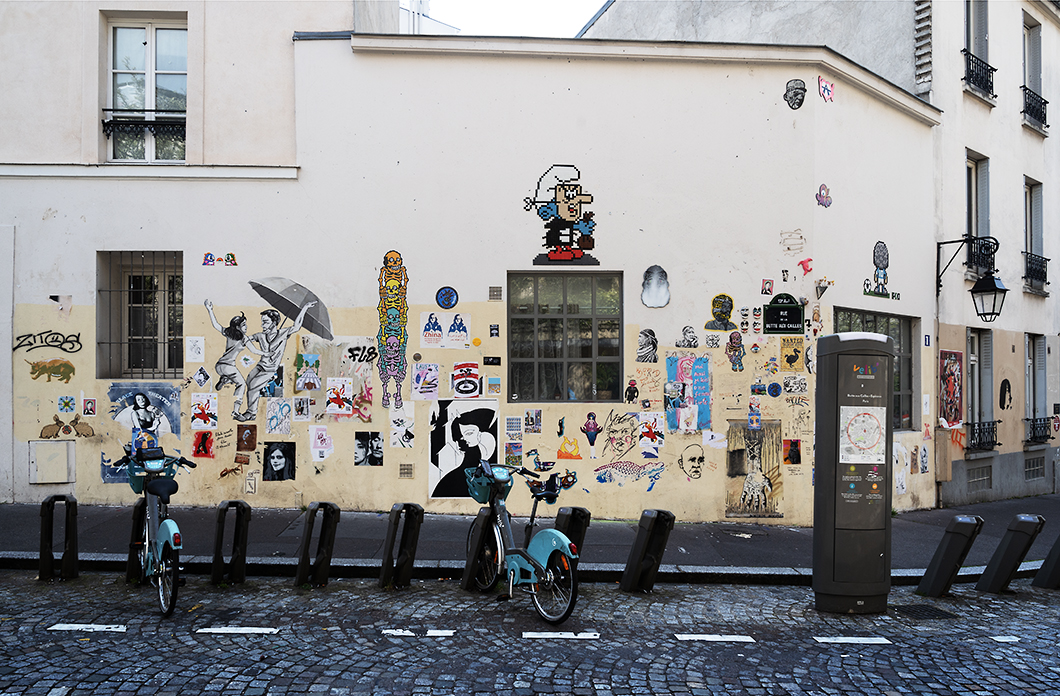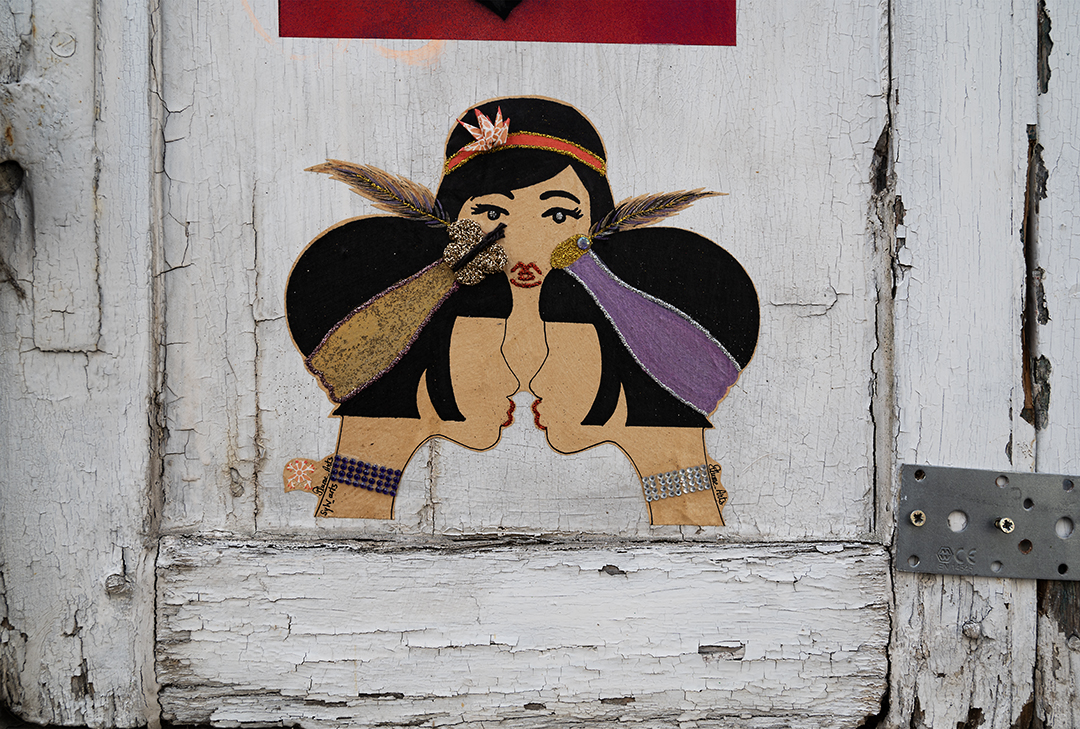 Engineer's Blue used in metal work for locating uneven surfaces is made from Prussian Blue which, according to the internet, is also known as Paris Blue. The paste up art of Paddywaggonparis has a very distinctive blue tone reminiscent of Engineer's Blue. Plenty of paste up art from Wild Wonder Women was spotted on Parisian walls and this beautiful collaboration with Paddywaggon really stood out.
Subsequent to my visit to Paris Paddywaggonparis sent art in to the 3rd London International Pasteup Festival which were some of my favourites.
"Smash capitalism – sleep more" is not the exact translation but it's the kind of political message we have all been waiting for.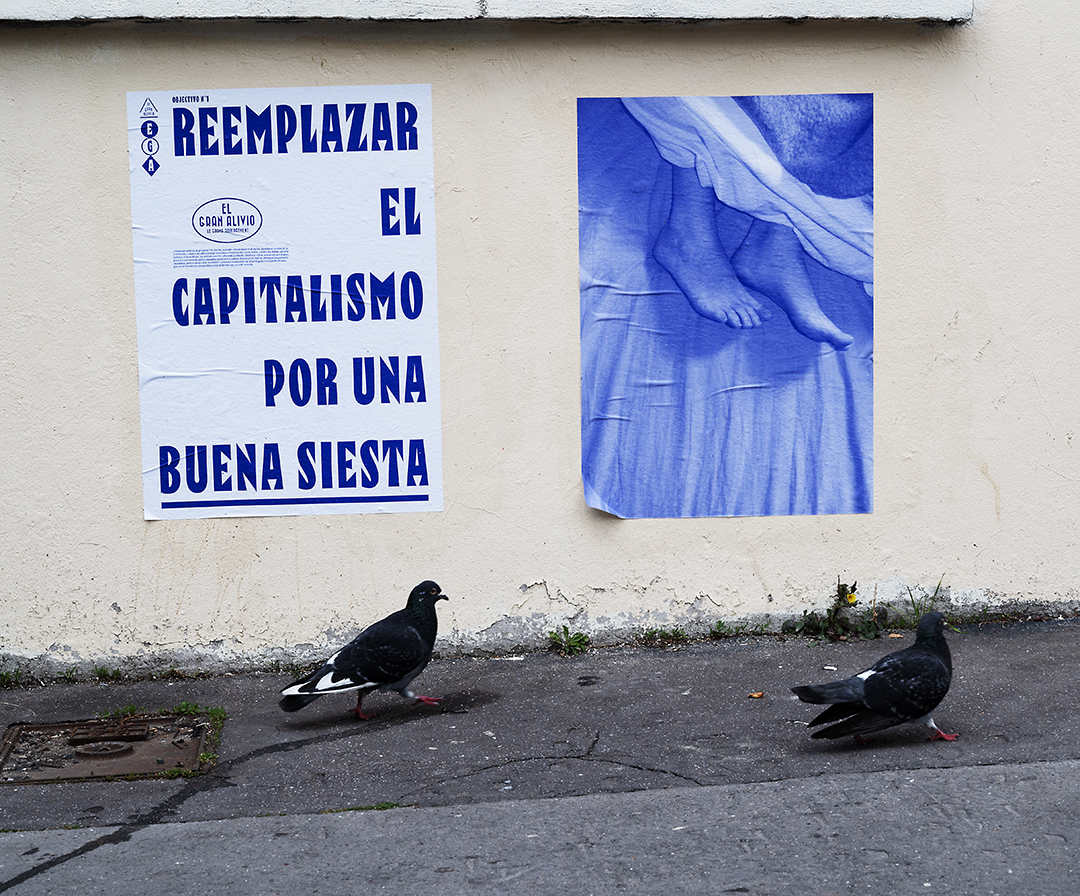 A decaying paste up in Butte aux Caille proved worthy of almost an entire essay in itself. The subject is a young girl, looking confidently at the viewer, relaxed yet perhaps not totally welcoming our intrusion into her world. The concentration on her face seems to ask "Is this a person I can trust or not?"
The artist is Italian stencilist Federico Luvol, many thanks to Thom Thom for supplying the ID.   The young girl is actually a Syrian refugee at school in Italy and the message concerns the appalling treatment dished out to refugees who have fled war, horror and ethnic cleansing in their homeland only to face a different kind of abuse in supposed countries of refuge.   The paste up art is a composite of stencilled image and cut paper negative lightly overlayed with splattered spraypaint.  Over time the paper has decayed and in a couple of places, down the right arm and the back of the head, the paper has torn away leaving a blank wall silhouette defined by the paint overspray, this adds a third component to the collaged image.  This is the kind of street art discovery that revives tired limbs, jaded eyes and gives me the motivation to kick on and find more.
SCULPTURES
Sculptures, castings, mouldings, reliefs, whatever term you prefer there is an incredible number of artists active across Paris gluing 3D stuff to walls.
There were number of familiar sculptures from an artist who transcends anonymity by installing castings of his own face. The low number of Gregos installations spotted was over-compensated by one enormous portrait masking at the detail level an easy to miss huge number of Gregos self portraits.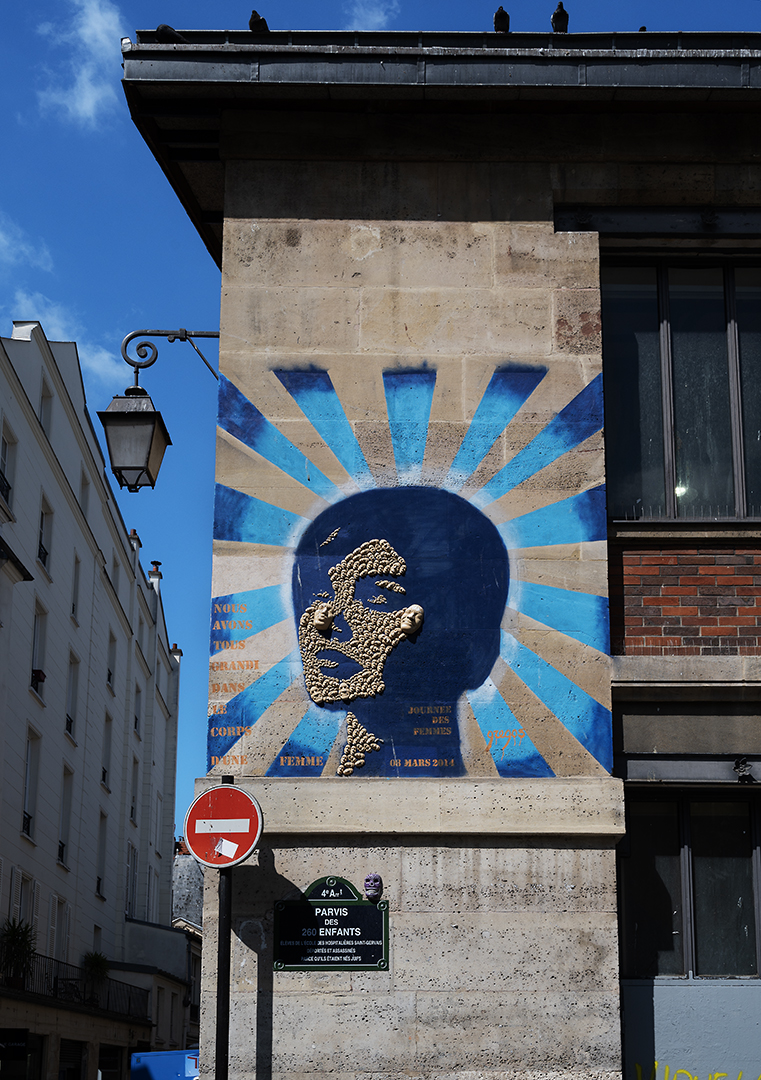 NOVEL, EXOTIC, UNUSUAL
Possibly the most cumbersome category heading refers to street art that defies categorization. You've seen many artists do stencils or paste ups or spraypaint murals and thankfully the end result varies hugely but the use of the underlying tools or crafts is fundamentally the same, paper is paper and paint is paint. This section celebrates the weird, wonderful, wacky and novel forms of street art discovered in Paris.
This paste-up heart with embroidered threads hanging free is reminiscent of the style of Mexican street artist Victoria Villasana (we didn't say the novel was always going to be unique).
Hammerbeads, why not
Flacking is the filling in of surface depressions with mosaic pieces. The leading exponent, perhaps even the originator of the practice, appears to be the artist Ememem though judging by the quality of the decorations that appear on the artist's Instagram it seems the ones I spotted may either be a copiest or Ememem on a less ambitious day.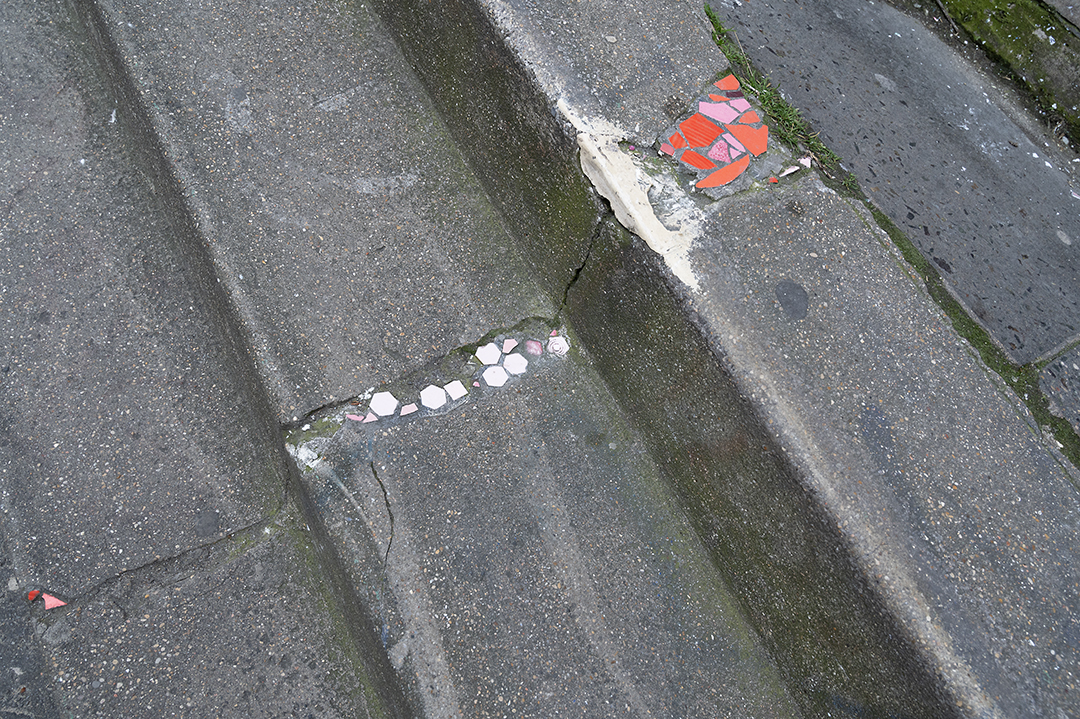 Faceted glass and mirror enclosures by Tegmo were everywhere, their capacity for doubling up as street cloches shown by the lush growth of plants housed inside some of the structures is brilliant. Like nothing I've seen on the streets before.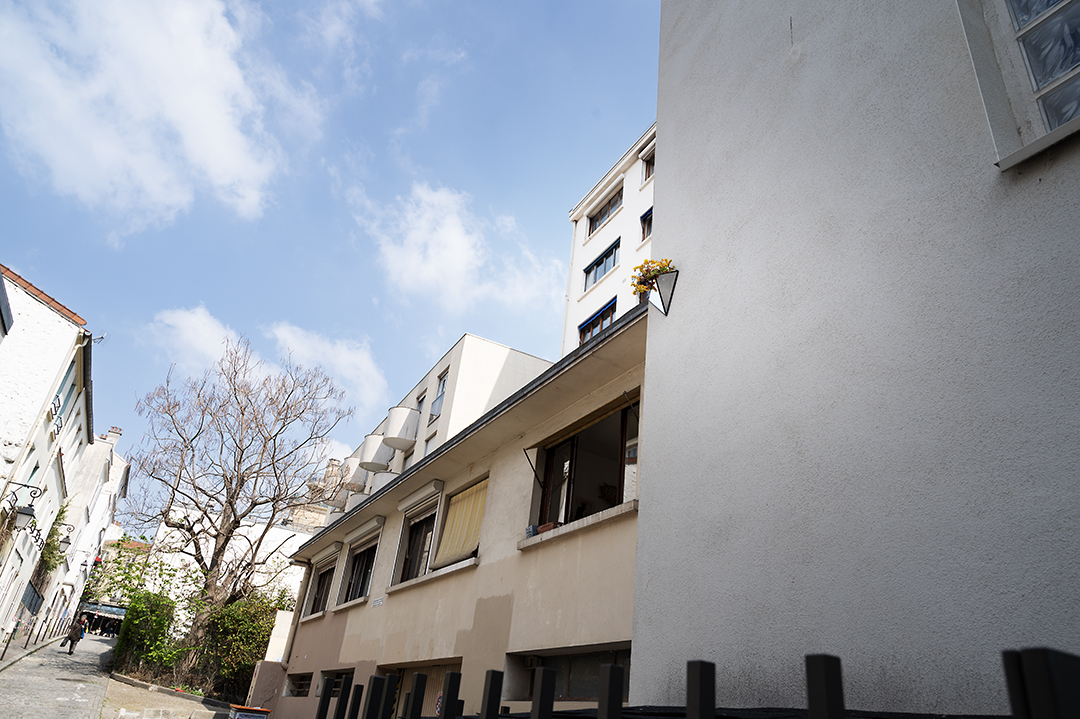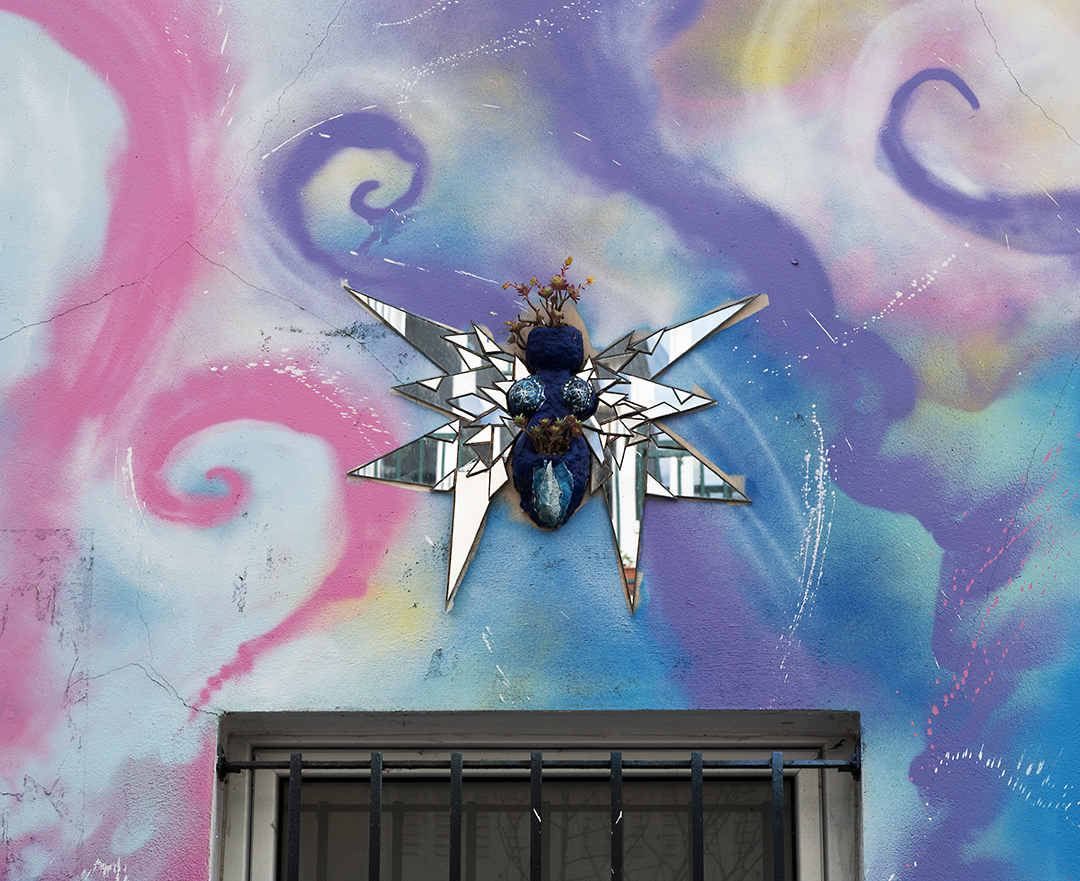 A particularly brilliant installation builds from a schoolboy-ish chuckle about the phallic shape of a pipe with bonus artworld literacy in the juxtaposition of the paste up mounted behind in homage to Gustav Courbet's "Origin of the world". Google is your friend but beware possible NSFW content.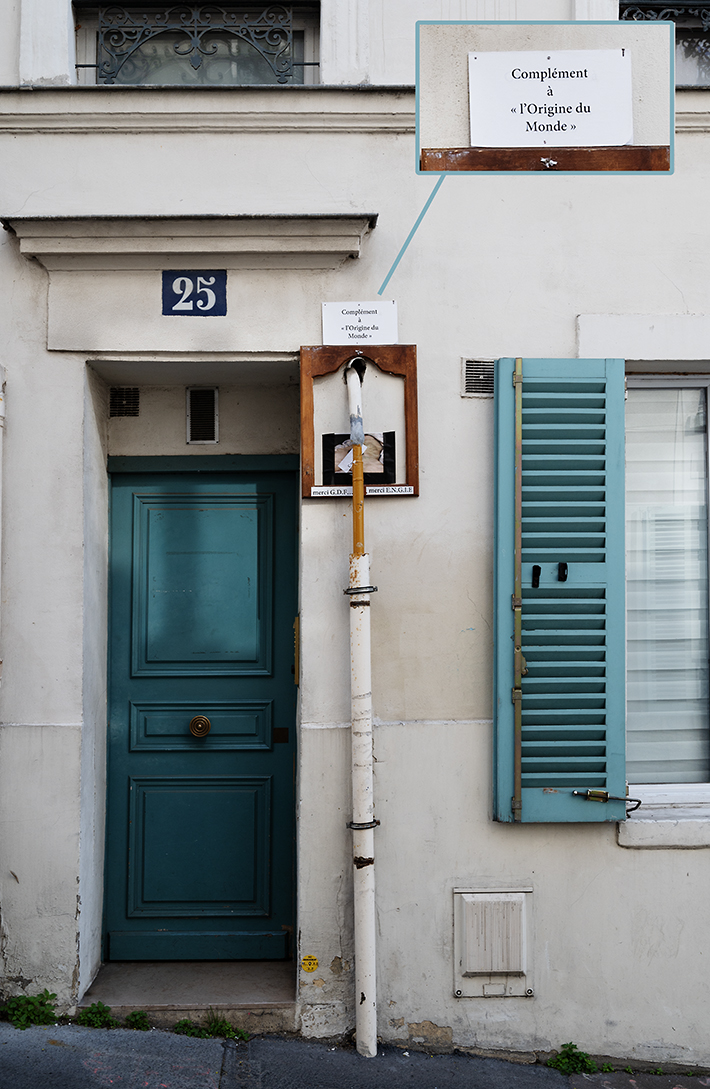 CAPITALES
"Origin of Parisian Graffiti" was very much the theme of an exhibition of art and photography relating to the kings and pioneers of French graffiti. Coincidentally there was a roughly equivalent show running at the same time at the Saatchi Gallery in London but where "Beyond The Streets" was a mixed salad of pre 2000 New York graffiti and anything else the curator fancied selling, "Capitales" was absolutement the un-corrupted, genuine, not for sale Parisian street art and graffiti history with a few international cherries on top. The revelation of Paris street art origins includes less well known contemporaries of Ernst Pignon such as Jacques Villeglé who worked with torn poster layers (see also Vhils, Thom_thom) and Gérard Zlotykamien who spraypainted simple characters on shutters and road signs. Capitales embraces and champions stickers as a valid form of urban expression, another area where Beyond The Streets came unstuck.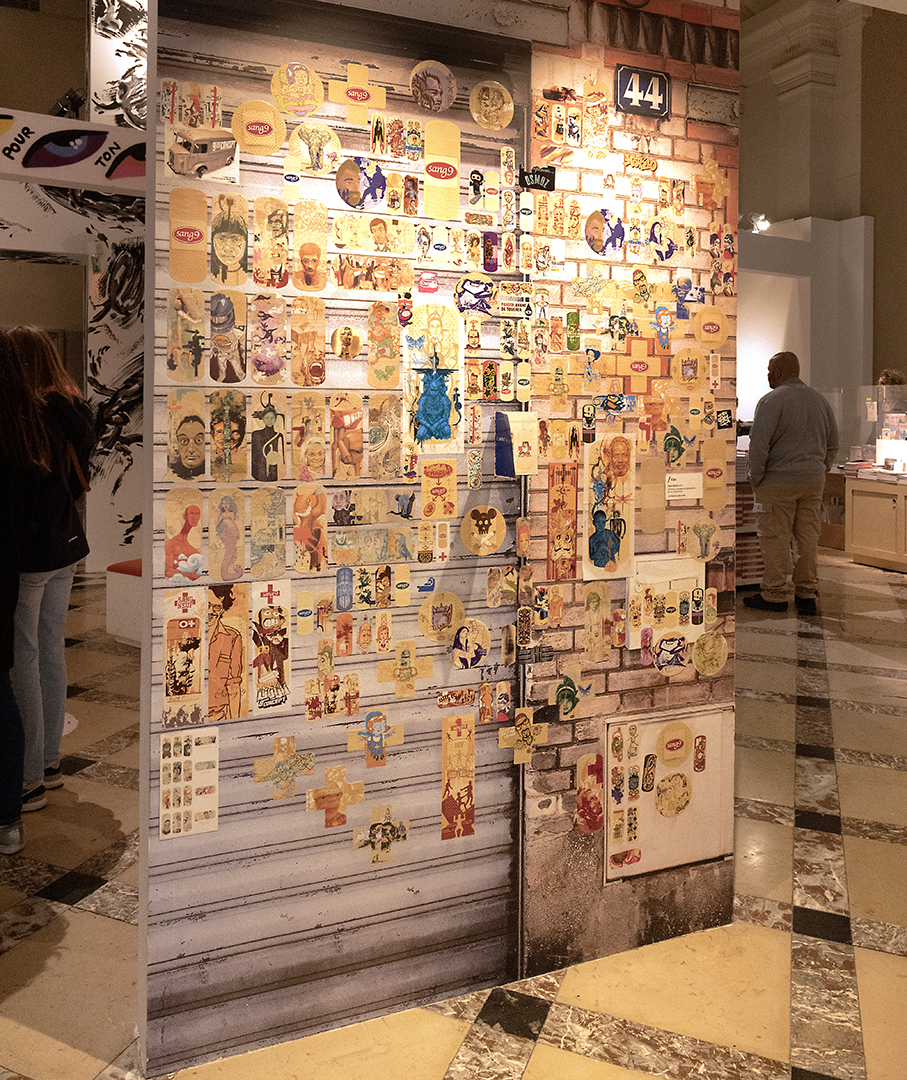 In the corner of that last photo there is an octopus wriggling around the upper parts of the exhibition by Kraken, pretty much the same as spotted on the streets.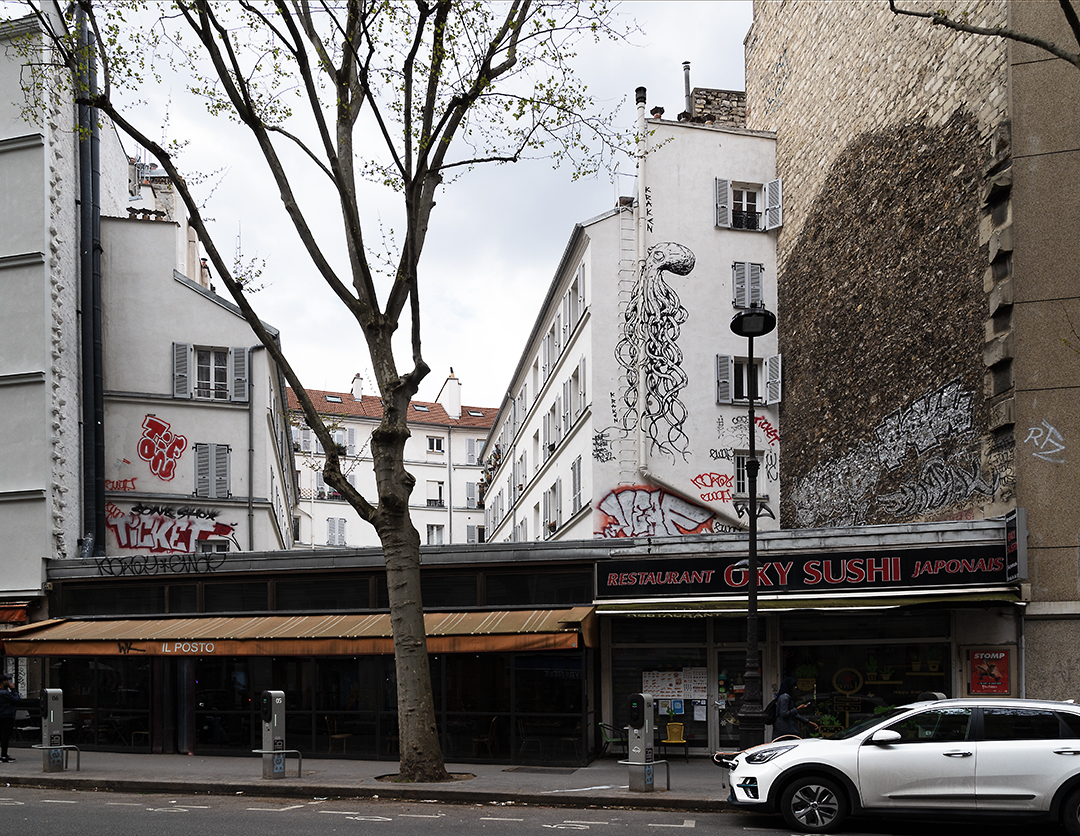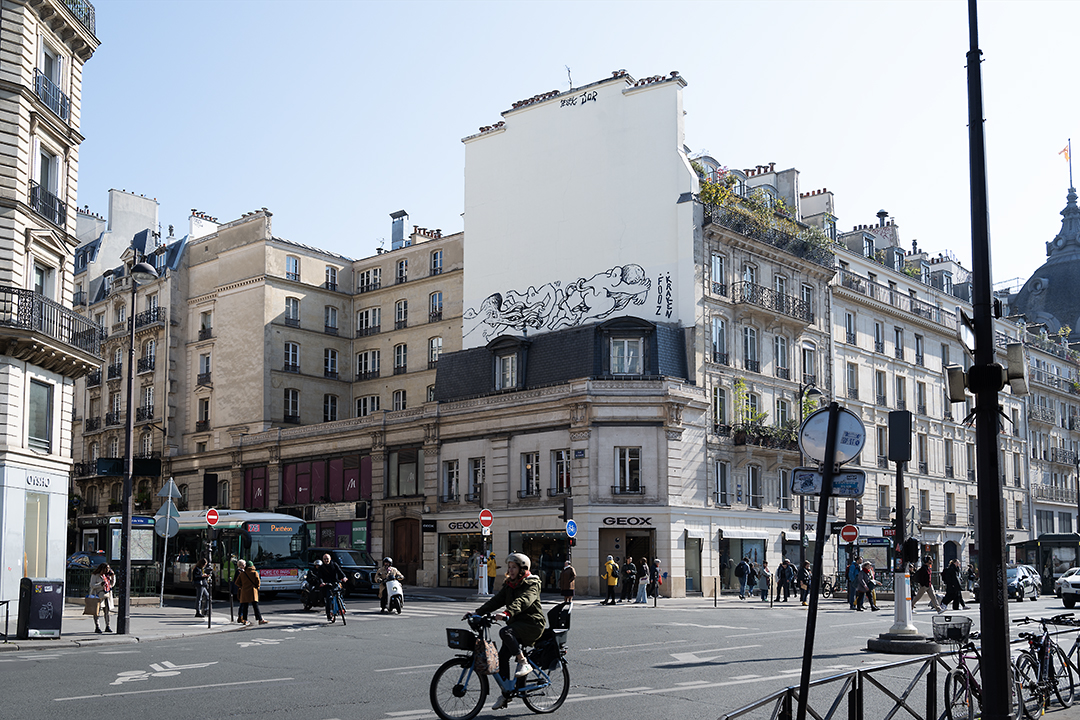 TUNNEL TUILERIES
Fears that spending time at an indoor exhibition would eat into too much valuable street wandering time were unfounded as it was a matter of a few minutes walk to Paris' answer to London's Leake St. Tunnel Des Tuileries is a re-purposed former car tunnel between the Louvre and La Seine that has become a haven for cyclists, joggers and mural painters. Painting has been permitted since July 2022 under a town hall initiative curated and controlled by a gallerist with several street artists on the gallery roster, a situation that could perhaps can be problematic. At least the art in the tunnel lasts longer than the average mayfly lifespan, it seems the Bault image below is one of several surviving from the inauguration of the tunnel as anew permission spot in 2022.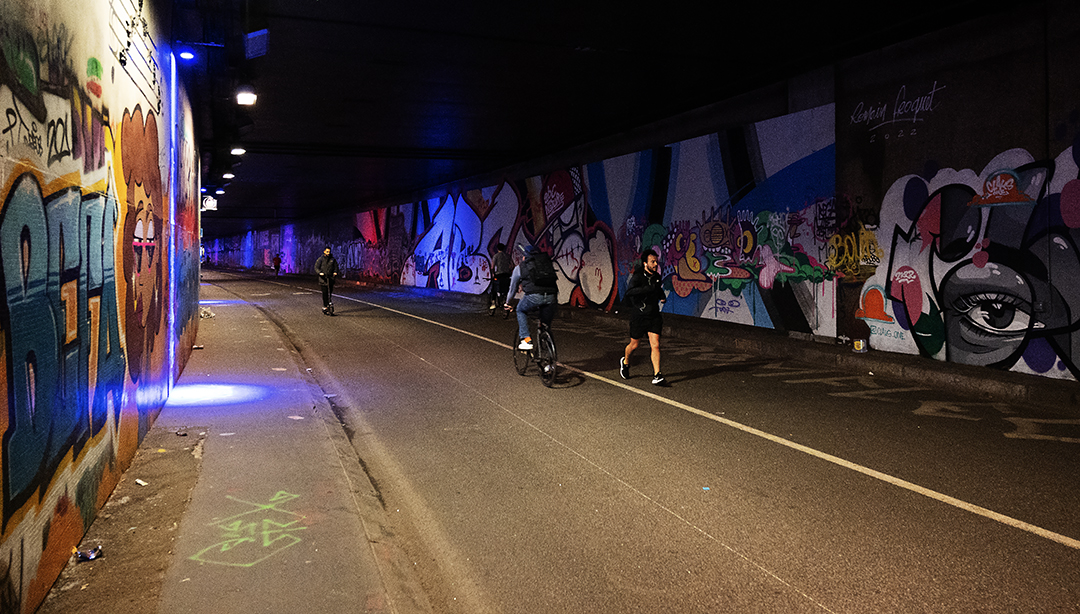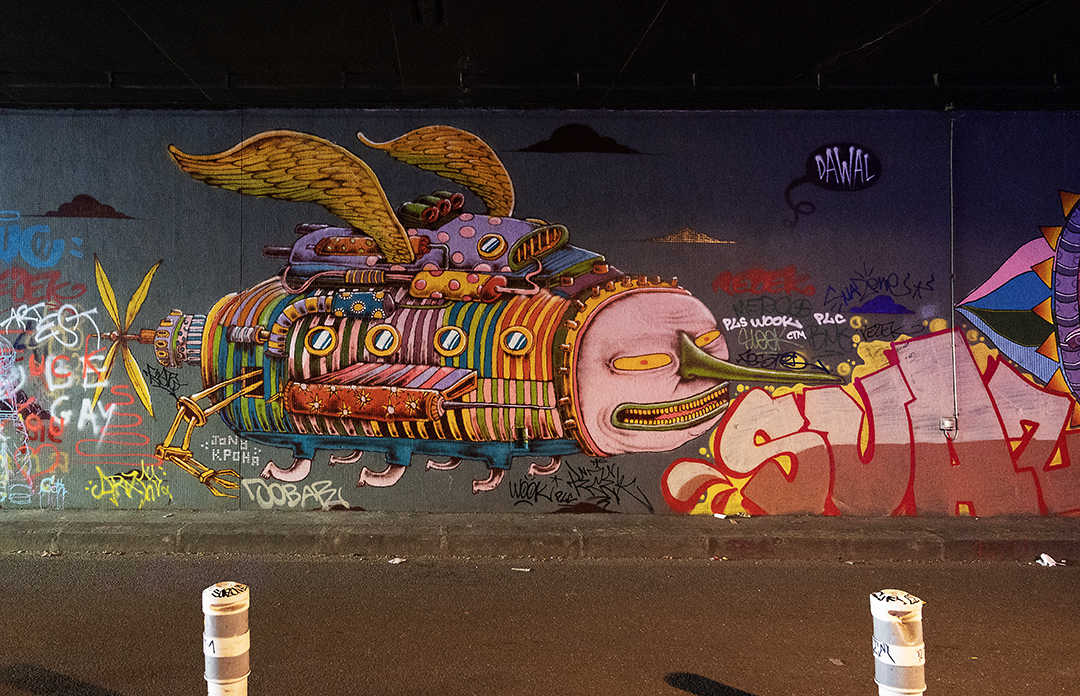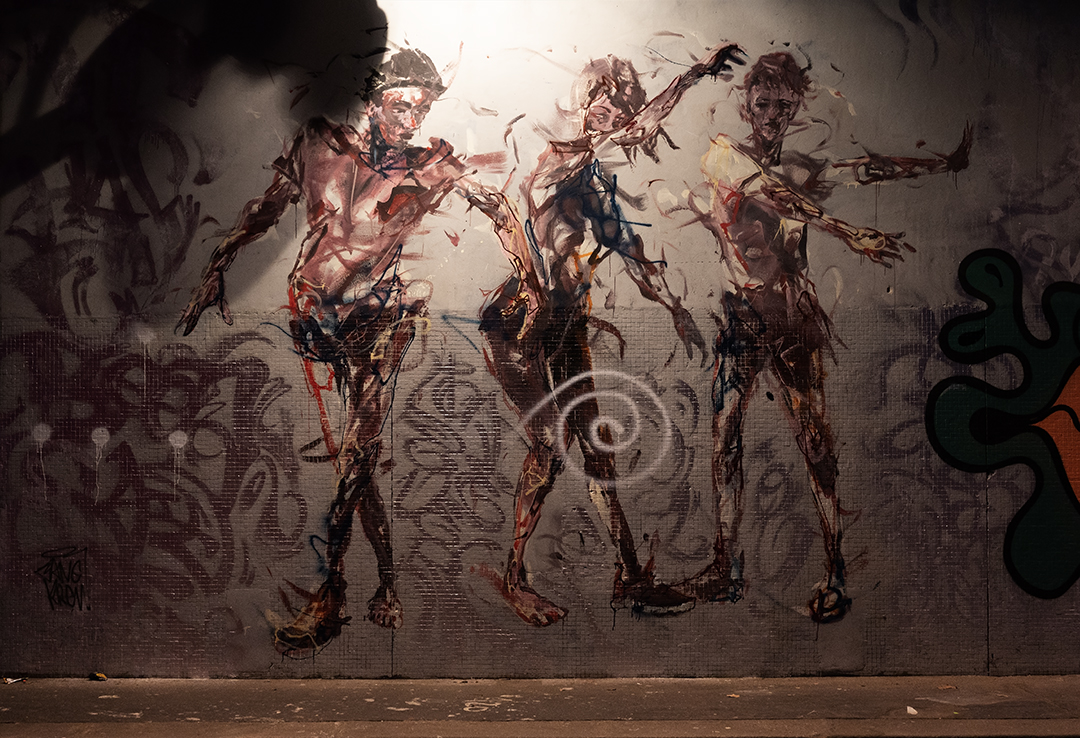 A classic My Dog Sighs eyeball in the tunnel has acquired a distinctively Parisian landmark in the eyeball reflection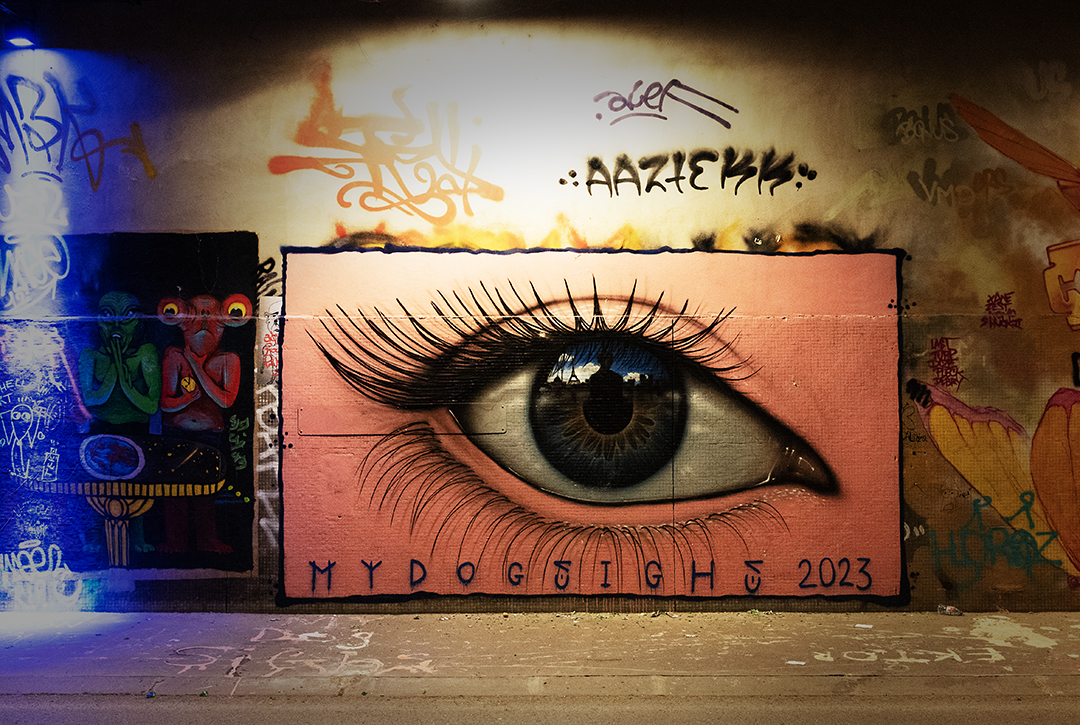 So there you have a few precious memories of a moment in time marvelling at the street art in Paris. It is not a guide, just the main things I had the deep joy of discovering. My main conclusions were that street art is super widespread in Paris, even in the posher central areas; it seems to have a longer life in Paris; there is comparatively little aggressive tagging over street art; there is an amazing number of miniature statues and busts and 3D cartoon characters and most importantly, murals are the least important aspect of Parisian street art!
Thanks to Thom_thom who is a fab street art tour guide in Paris who joined me for one afternoon of fun.
Let me know in the comments below if this makes you either resolve to visit Paris or incredibly happy you live in Paris!
All photos: Dave Stuart