Straddling the end of the year like a hurdler whose rear leg failed to follow the front leg, Graffoto tries to divine a little perspective on the street art we have enjoyed and endured on the annual lap just completed and first sight suggests things were not that painful.
There is little doubt that the most spectacular addition to Shoreditch's outdoor canvas has to be the Connectivity Mural, Graffoto looked very closely at the wall when it was finished in August and had the pleasure of a long chat with Lee from Global Street Art who coordinated the whole thing. The complexity, coherence and scale put this mural on a completely different level to the typical Shoreditch street art fodder.
No one expected Hick's and Zadok's forest to actually blossom so vividly.

Connectivity Mural detail by Hicks & Dr Zadok
MCLN had a prolific and is seems a very interesting year. There was a romantic period early in the year when love appeared to blossom, the plague doctor danced around the walls waving artificial flowers and bearing love hearts on its bosom.

MCLN April 2018

MCLN, July 2018
Then it seemed tragedy struck, the plague doctor became haggard, distressed and brittle and sported dramatically bloodshot eyes. The apparent romantic topsy turvy (this is all speculation!) led to interesting developments in MCLN's technique as the plague doctor appeared in a new form as a street painting direct onto the walls rather than a paste up or a sculpture.

MCLN, August 2018

MCLN, August 2018
Street art is expected to be temporary and a number of long standing murals finally met their demise this year. Under the railway bridges parallel to Shoreditch High Street a curated mural program saw Dal East's long running diver yield to a series of artworks in a rotating program. My appreciation of this piece of art (artist not known) was transformed by this dance performance with groovy live accompaniment, how many living statues can you see? (answer: None, they are dancers)
A unique phenomenon that can only be described as a virtual buff came to Shoreditch this year. Edwin's spectacular post-Grenfell harbinger of doom "This Melting Pot is at Boiling Point" was digitally transformed in the BBC's eco-conspiracy drama Hard Sun to "This City Is An Unmarked Grave", as captured in this amazing photo of a television screen.

Edwin

Hard Sun
Savant continued to just push paste ups to the extreme with glitch filled, super saturated solarised colours, New Order song titles and a series images pursuing an obsession with the supernatural.

Savant

Savant
It was great to see ALO return to London for an extended period over the Summer, resulting in multiple beautiful street paintings.

ALO
In October 1968 Tommie Smith and John Carlos protested against prejudice against black Americans by giving a clenched fist salute during their medal ceremony at the Mexico Olympics, the image of their protest on the winner's podium became a defining moment in the quest for black unity and power. An artist paid homage to that image by subverting Banksy's Girl With Balloon, thus combining two incredibly iconic images in one piece of street art. The identity of this artistic genius remains unknown to Graffoto at least.

Artist unknown
One of the more curious, nay, sinister pieces of art that appeared were a small collection of baby faces by ODDO

ODDO

ODDO
While looking at the rather weird, brocolli now grows on trees don'tyaknow, thanks to Brocolli Man aka Adrian Boswell.

Adrian Boswell
Something that has plagued street art this year has been what feels like much more advertising placed over art than usual, some of it inexcusable when it is urban art shows or street art conferences being promoted by people professing an affection for the culture who ought to know better. Miss Chief hit London with an awesome blizzard of paste ups and succinctly made her views clear on art adverts over street art.

MissChief v. a so-called art fair
In recent years London legend Sweet Toof was making noticeably less frequent appearances on London streets so it was a pleasure to find a number of new street art dental interventions in Shoreditch this year, including a short lived piece collaborating with New Yorkers Skewville and Cash4.

Salt Toof Beigel

Sweet Toof, Cash4, Skewville
Speaking of, it was great to see Skewville chucking his screen printed converse sneakers over the wires again after quite a few years though it is increasingly a challenge to find suitable wires.

Skewville
The Reactivation Team continued a regular supply of reactivated Space Invaders in London, as these invaders were typically photogenic it serves as a brilliant reminder of how radical Space Invader was in invading high profile spots as long ago as the late 1990s.

Space Invader LDN_10, originally 1999, reactivated mar 2018
A completely unexpected adventure arose with the discovery of a derelict property on the Greek island of Rhodes. It's Greece so lots of gods, not many kings but none the less a very photogenic piece of exploring in a spot not completely rinsed out, full write up HERE.

DAFT, TREND in at the deep end

KELN, MAOK, GAZA, NBGS & DIRECT hogging the changing facilities
Street art locations come and go, locations shuffle around, new spots wax as others wane. Some just evolve and one of the most interesting transformations has been the derelict car park space on Holywell Lane, many will remember for years Holywell Lane was closed while the overground was build overhead. The opening of the hotel and particularly a plaza to the east of that which still awaits final development has provided some great new opportunities for graff and art on the hoardings in a very photogenic urban setting.

Core 246, Delgan, Cazer

Sky High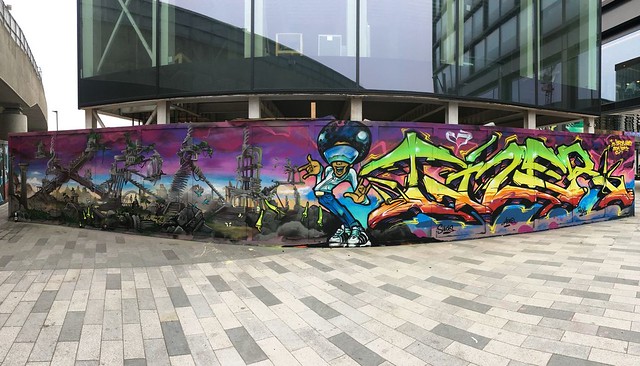 Xenz, Tizer
A huge wall that Jim Vision was actually closely connected with over 10 years ago is the Village Underground wall opposite that location. In among a tiresome stream of mural averts the occasional street art gem appears, including this lush tribal character by Dale Grimshaw

Dale Grimshaw
Jim Vision has undoubtedly played a key role in establishing that new graff location and also secured a major expansion of the legal wall area on the wall of the elevated section of the London Overground by the Nomadic Community Garden. Those walls first came into permissioned usage for the 2018 Meeting of Styles festival and at risk of appearing a bit one tracked, the art which mode blew me away that weekend was again by Xenz.

XENZ
There is no greater buzz than randomly spotting art which jolts the banality of the urban landscape, hijacks the public visual realm and subverts the saccharine and commercialised messages we are bombarded with. Stand outs that I had the thrill of chancing upon this year were Kennard Phillips surreal conversion of a drone morphing into Donald Trump and Protest Stencil calling out Facebook for its manifest abuse of our private information – you would need to recall the grubby Facebook apology/denial "DATA ABUSE IS NOT OUR FRIEND" adverts in the Summer.

Kennard Phillipps, aided and abetted by Flying Leaps

Protest Stencil v. Facebook
A Nike superstore in Shoreditch closed late in the year and Moruzzi Creative pounced on the wall to subvert the Nike logo painted on the wall in a subversive artwork proclaiming consumerism as the new religion with brands as the gods. Did very well to last over 2 weeks on Nike's wall.

Moruzzi Creative
Crok also took advantage of a campaign by CP Company (who?) to do what graffiti writers do – put up their name! Graffoto loved this, especially the imaginative subversion of the text and the ghetto-isation of the advert with the added tags on the wall.

Crok v. CP
Donk has been taking the art of the paste up to higher levels literally for many years and this year did an epic collection of portraits of Brick Lane boulevardiers whose jumbo scale made them Shoreditch's equivalent of Mount Rushmore.

Donk
It was clear to the seasoned wall inspector that one of the portraits was a re-issue of one which was pasted at the same location in 2016, what did not become apparent until recently was that the new version was an alternative version of the original one with different tinting AND the 2018 version was precisely pasted over the 2016 edition as revealed by the peeling of the layers in the following photos. No one else finds this shit interesting?

Dec 2018

Donk July 2016
For quirkiness there was little to surpass the tin can tagging of Jakuna Melata whose tins appeared in Shoreditch and the West End. In the second example below check out the playful anti gravity dripping on the cans. A surprisingly large number of MeLata's cans remain in place in London.

Jekuna Melata

Jekuna Melata
Mural commercials, big spraypainted adverts if you like, provide a handy mechanism for accomplished spraycan artists to turn a penny and no one could begrudge them that, though the number of walls which once housed art by some of the top street artists, Roa, Shephard Fairey for example, that are now dedicated exclusively to commercials is disappointing. Generally such commercial murals get the attention they deserve within the community, which is to say bugger all but the MAKE IT advert below deserves to be the exception. Painted by a team of graffiti writers arranged by Graffiti Life, the design preparation and technical precision in the spray painting had to be absolutely spot on to achieve an amazing 3D relief effect. This actually looked better on camera than to the naked eye, which means a photo reveals the effect but not so much the technicality of this piece.

Graffiti Life
Anna Laurini was prolific and remained a faithful follower of Picasso.

Anna Laurini, West End
Ben Wilson also hit the pavements in several waves this year with a variety of characters, aliens, landscapes and building facades. On this occasion we stumbled across Ben painting an aerial view of Len and Bryan humping barrels up out of the Bricklayer's Arms cellar.

"Lee and Bryan: These Men Should Be Paid More", Ben Wilson chewing gum art. Fingers artist's own
Tom Lewis demonstrated that the key component in producing a breathtaking piece of art is …. being a breathtaking artist! Tom had never wielded a spraycan nor painted a wall until he came up with this specimen of next level Japanism.

Tom Lewis assisted by Carl Stimpson
Keef was not as prolific as in recent years but when he hooked up with the visiting Howl Owl a collection of owls and pussycats went to roost on a beautiful shit pipe.

Howl Owl, Keef
Memi Martinez from Argentina demonstrated a painstaking delicate spraycan technique on a pair of beautiful sunkissed murals in Shoreditch.

Memi Martinez

Memi Martinez
Mr Cenz produced a number of murals which as always with his art looked stunning with some night light photography, he kindly described the next photo as one of his favourites of the year and who are we to argue?

Mr Cenz
The next composition this lady appears to be caught in the night time glow emanating from the picturesque window across the road.

Mr Cenz
City Kitty, Arrex Skulls, Voxx Romana and DRSC0 were back in London again and produced the quality and quantity of street art that merits almost an entirely separate flashback dedicated just to them, let's just represent them (minus City Kitty) this time round with one appalling photo of a stunning "Creation of Adam" mural.

Voxx Romana, DRSC0, Arrex Skulls, Camden
One event stands out among the 2018 Urban Art highlights, that moment when a failed Banksy stunt actually proved even more successful than planned (details HERE), though such is our respect for Banksy that we won't dismiss the possibility that even the failure was carefully planned.

Love Is In The Bin, Banksy
Right back at the beginning of the year Argentinian street artist Cartoonneros rocked his multi colour stencil portraits on London streets and in conjunction with Pure Evil hosted a fun "have a go" stencil evening in the Pure Evil Gallery. It is fitting to end this look back with the very last 2 photos I took of street art in 2018 of some fresh new stencil images by Cartoonneros found on New Years Eve.

Syd Barrett by Cartoonneros

Kurt Cobain by Cartoonneros
As this forking over the memories and the trawling of photos ("Did that actually happen?") nearly completes we are now a couple of days into the New Year and artists are already setting about decorating walls with renewed relish. Graffoto wishes one and all a happy, safe and creative new year.

Phlegm

Vile
All photos Dave Stuart: instagram