Winter Lights
Canary Wharf, London
16th – 25th January 2020
Dark nights and biting cold make classic ingredients for some light art so off to Winter Lights at Canary Wharf, selfie heaven in the form of 26 sculptures.

Affinity, Amigo and Amigo & S1T2
Starting with our favourite, Constellation is part Dr Who theme tune vortex visual and part early 80s wire frame battlezone tank game. The white light projected into water vapour clouds is totally immersive, absorbing and nothing like as wet as it might sound.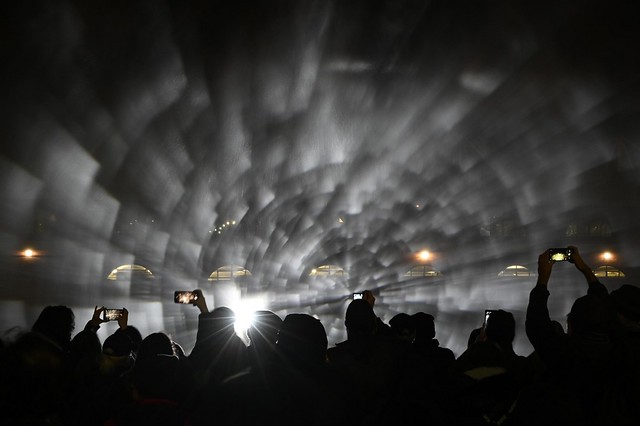 Constellation, Studio Joanie Lemercier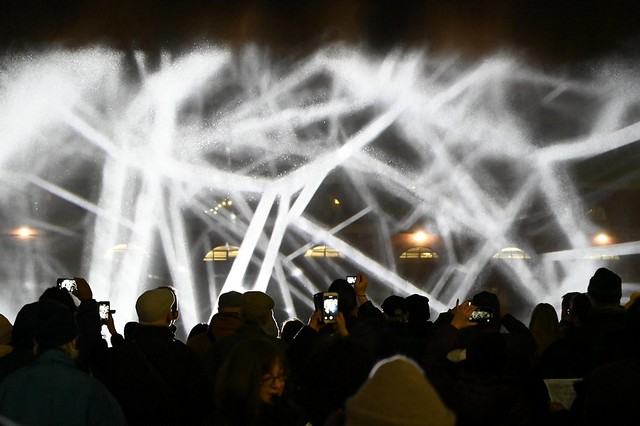 Constellation, Studio Joanie Lemercier
Pre visit consultation of the website suggested Absorbed By Light had compelling crowd "interaction" photograph potential but the crowds clustered around the bench means sharp elbows and abandoning your British reserve is essential, time and rumbling stomachs decreed we wouldn't throw ourselves into that scrum. In a desperate attempt to contrive a street art reference, this installation channeled two great pieces of art by Banksy, the Mobile Lovers in Bristol and the bench with seagulls at Dismaland.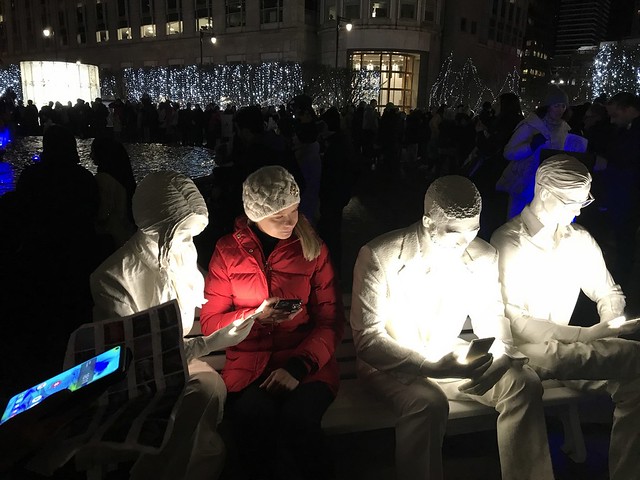 Absorbed By Light, Gali Mai Lucas

Banksy/Polly Morgan, Dismaland, 2015
Mobile Lovers, Banksy 2014. Photo shellshock
The Bra Tree fused the after effect of a Tom Jones gig in the park with a 1970s women's lib rally, it probably looks much the same in daylight, the illuminations operate from 4pm to 10pm, as at night. All the bras are believed to be part of the artist's original installation, evidence suggesting otherwise gratefully received. Perhaps a more imaginative name would have inspired some more enlightened thinking about this explosion in a lingerie department.

The Bra Tree
Everyone can take fabulous photos at Winter Lights, the Mountain of Light is particularly photogenic.

Mountain of Light, Angus Muir Design
Shish-Ka-Buoy looks like display of psychedelic sex toys and once that thought is planted in your mind you just can't erase it.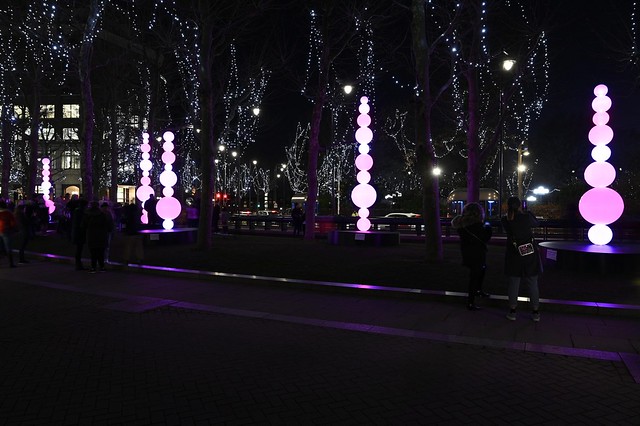 Shish-Ka-Buoy, Angus Muir Design
Sasha Trees is one installation that involves quite a bit of a schlep from the main clusters and you've probably seen it already so even though it looks great, if time is tight this would be the one to drop.

Sasha Trees, Adam Decolight
Sky on Earth is a genius proof of the "there's a queue, better join it quick" herd instinct. The installation has subwoofer bass note throbs accompanying a bubble bath with intermittent light flickers, you can extract the impact, effect and visuals just as effectively from around the perimeter but everyone who didn't have kids under the age of 10 politely queued 10 minutes for the privilege of walking down the channel in the middle.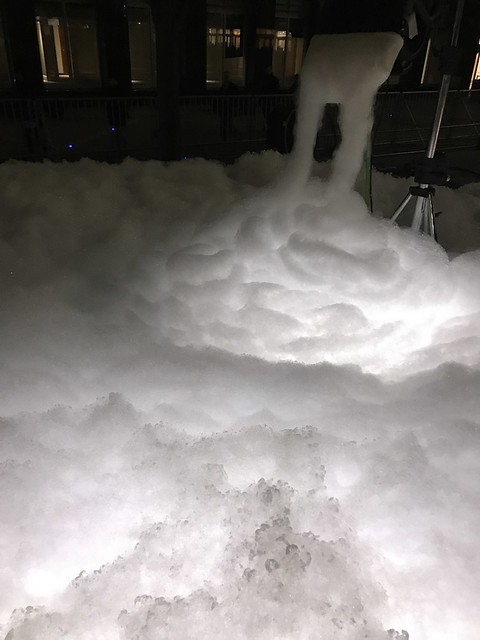 Sky On Earth, UAII Studio
Light festival veterans in London will find a number of the installations quite familiar. I can't think how many light festivals the Light benches have appeared in and some such as Liquid Sound and Bit.Fall looked identical to last year. Some were just downright underwhelming such as Seeds Of Life located in a shopping mall.

Squiggle, Angus Muir Design. So 2019.
Pools Of Light was also present last year and still looked like a 6th form disco light show fell into a ball pond. It is amusing to observe the resigned attempts of stewards to prevent people throwing the balls around in the face of what looked like a dozen American Football matches taking place on the same pitch.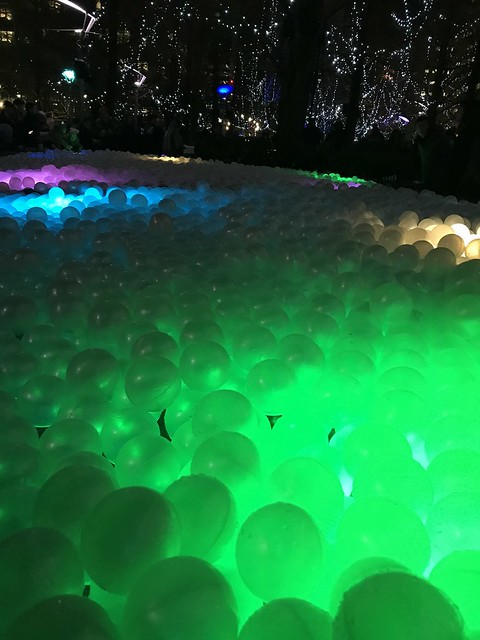 Pools Of Light
It's fun, it's photogenic, it runs for a week until next Saturday 25th January and the forecast for this week is fortuitously dry. Arriving at Canary Wharf tube station drops you right into the action so getting there isn't too problematic, so perhaps well worth considering Winter Lights for a free thing to do in January.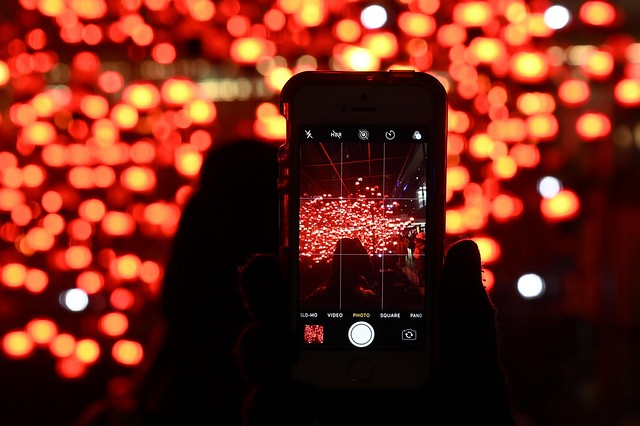 Desire, UXU Studio

Mountain of Light, Angus Muir Design

Lactolight by Lactolight

Aquatics, Philipp Artus

Ditto, Ithaca Studio

Time and Tide, Paul and Pute
All photos Dave Stuart except Shellshock where noted
More information Winter Lights: Website