Time to reflect on another glorious year of street art. Time to make zero apologies for again revealing a disposition towards the small and the unexpected rather than the humongous blockbusting murals. Time to admit that this was written before all those other end-of-decade posts that have been pouring out of Graffoto over the past month, the idea for those came late and they leap frogged this look back at 2019.

Amy Winehouse, stencil on stamps, C&S
Every year there are Negative Ninnies naysaying street art. "We lost such and such a wall"; "The culture is rinsed out, watered down and washed up"; "no balls" and yet, every year, something new emerges and artists seen before like C&S above bring fresh art to intrigue, amuse and delight. That's what we celebrate. C&S (above) had a very neat technique for making it appear that the stamps were lick-sticked one by one to the wall then stencilled over. Equally impressively, on the collection of stamps there are 8 1/2p and 9 1/2p stamps, the UK dropped the 1/2p back in 1984.
How about DaddyStreetFox? Those foxes started to appear in the corner of your eye in 2018 now seems they are everywhere! The "ecclesiastical foxes" look particularly stern.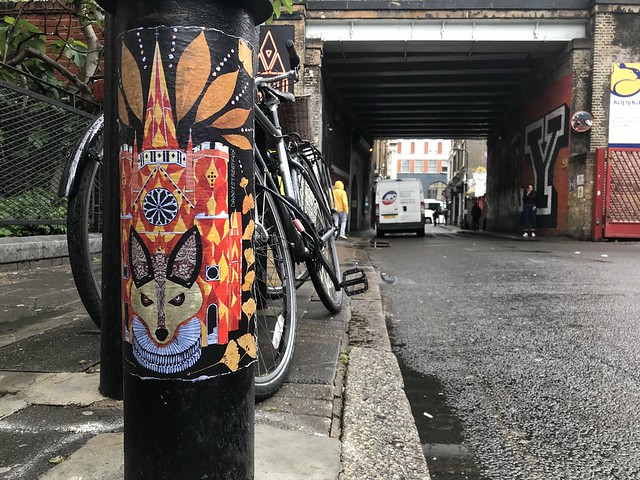 DaddyStreetFox

DaddyStreetFox – got some bins to rip apart
One of my favourite collaborations this year came about slightly by accident rather than design as one partner reacted to the other's opportunism but the result was stunning.

Jim Vision & Fanakapan – Gimme 5
At the other end of the scale Uberfubs's street jewellery featured in so many beautiful collaborations.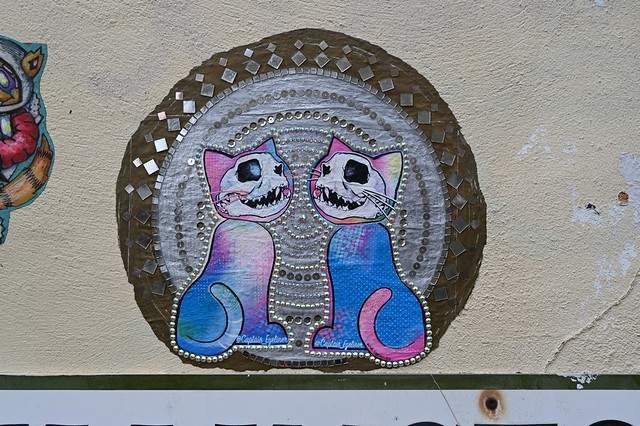 Uberfubs & Captain Eyeliner
The stunningly beautiful Stop The hate Angel pieces appeared in a range of sizes and with mirror tiles and colourful stickers, all caught the light superbly.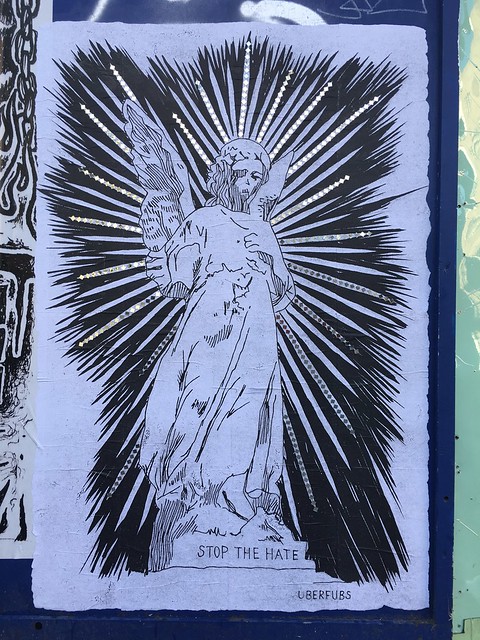 Stop the Hate Angel, Uberfubs, life size
2019 saw a major rotation in the political street art, yet things remain the same. The political agenda for street artists here in London was hogged by Brexit, obviously; the conservative party with Boris pretty much matching Trump in popular loathing; and environmental issues.

Fight Tiny Tribal Minds – Trump, Subdude
Wankers Of the World handed out 6 WOTW awards earlier in the year and pretty much nailed the Boris issue even before the country's 11 top law lords in the Supreme Court ruled that "The Prime Minister's advice to her majesty was unlawful, void and no effect" on account of Johnson being a lying shit.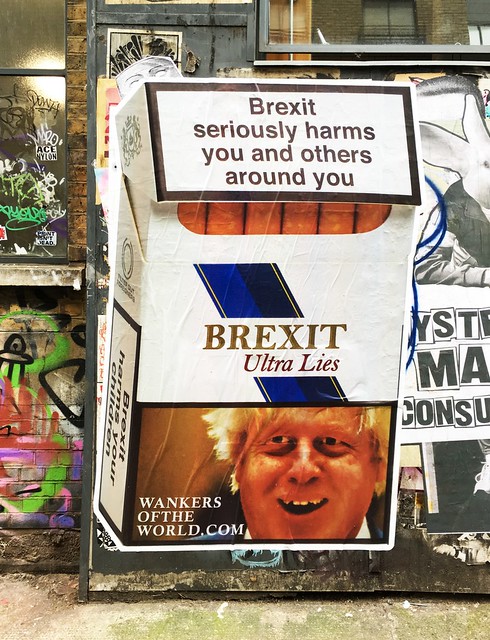 Brexit Ultra Lies, Wankers Of The World, March 2019
Theresa May disappeared leaving little trace on the political landscape, only scars on walls.

Fight Tiny Tribal Minds – Theresa May Version, Subdude
Unexpectedly David Cameron made a return on Shoreditch walls thanks to K-Guy hijacking the autobiography graphics to frustrate the pig lover's attempt to wash clean his legacy.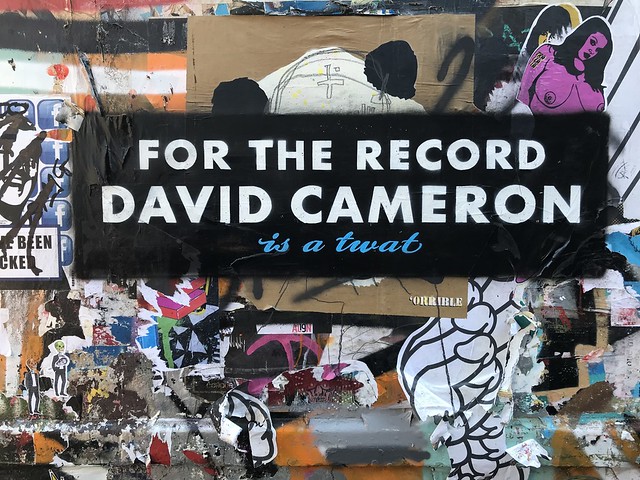 David Cameron Is A Twat, K-Guy
In case there wasn't enough real world politics to contend with, Shoreditch street art contrived to produce its own political tea cup perturbation on the issue of who gives respect to whom and who goes over whom. With a tin of black paint and one night's work in August, Qwert and Neon Savage put themselves at odds with LDashD.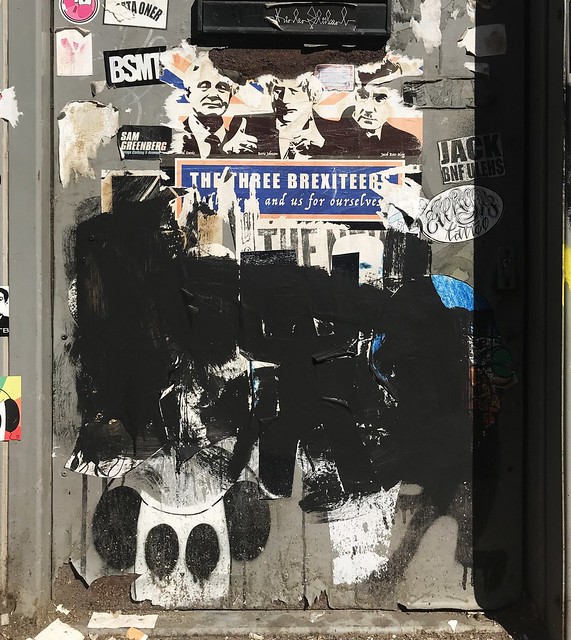 Buff v. LDashD, 23 August 2019
LdashD of course has quite sufficient chutzpah to keep the drama running and proved a reasonable hand at pasting over the paint buff.

LDashD 26 August 2019
The protagonists tore at, pasted over, painted over and subverted eachother's work and it continues.

October 21st LDashD torn (paint splats are relics of a piece of Qwert)

November 3rd
Should LDashD, the master of the forced collaboration, show more respect to other artists or have Neon Savage and Qwert assumed a role of censorship and curation running counter to the ethos of wild, un-curated street art? Both arguments have some merit and the long running spat highlights one of the many internal conflicts and inconsistencies in street art's unenforceable inconsistent unwritten rules.

"Just Stop It Now", artist unknown v. LDashD
Qwert put up a lot of great paste ups this year, many of which LDashD nobly refrained from augmenting. The cartoonish earnestness of this character showing off his growth in social media likes was pointed (literally) and amusing:

Qwert (detail)

Qwert
A fascinating intersection between street art art river bed scavenging or "mud larking" to use the popular local vernacular emerged during the year, led initially by Jonesy with carved bricks from the Victorian era found in the Thames foreshore.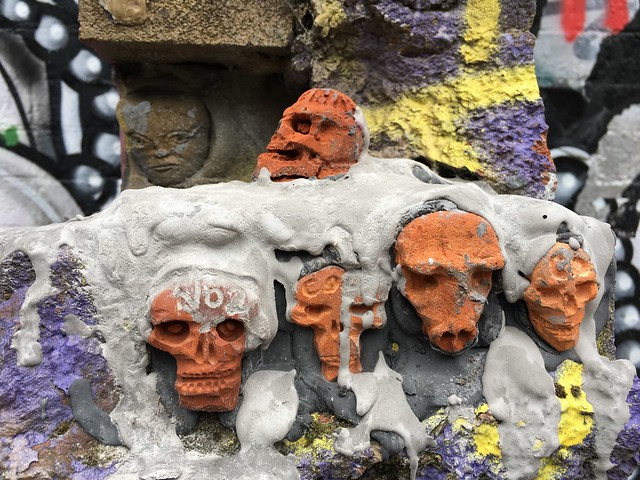 "Methane", household Bricks, Seven Star Car Park 2019, also feat a 2103 casting, all Jonesy
More recently a proper mudlarker going by the moniker Old Father Thames created collages of river treasure mounted on varnished wood, doubtless also Thames flotsam.

Eat, Sleep, Lark, Repeat, Old Father Thames
Inventiveness is priceless in street art, prized way above polished and pristine large scale street art. This year, Lost Hills brought the novel to Shoreditch street art with a clever hack of those garden night light things which he used as eyes in a trio of lurid fluffy monsters.

Lost Hills
Throughout the year we saw many forms of interaction with art on the wall, some witty, come crude, some hostile but none with the artistic brilliance of My Dog Sighs' stunning "Trompe l'Oeil" water droplets.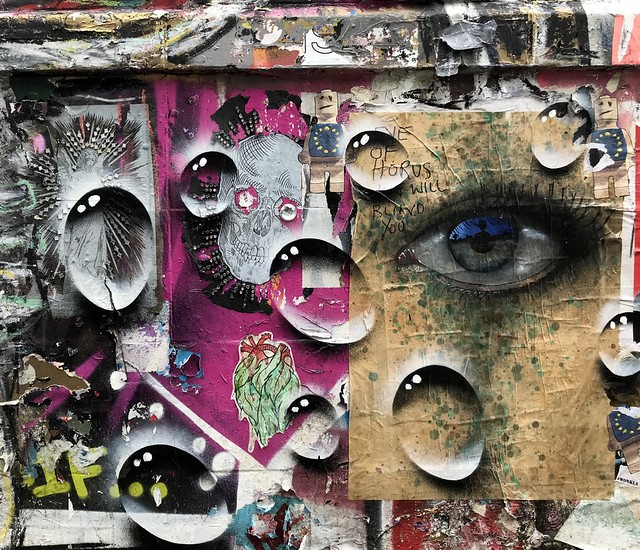 My Dog Sighs. Also feat Uberfubs, Apparan
Murmure visited from France and also used a Trompe L'oeil approach with pasted characters cleverly positioned to look like they were the culprits behind the marks on the wall, though one was also cleverly simulating the buff.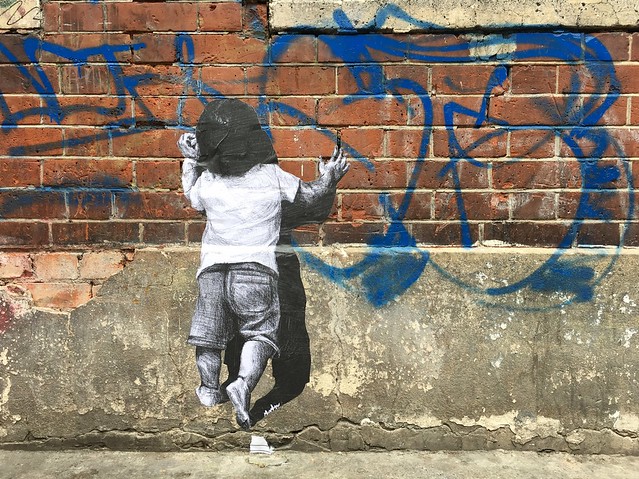 Murmure
Shepard Fairey hit London hard this year with beautiful stickers, pasteups and some top murals on the occasion of his 30th anniversary exhibition "Facing The Giant".

7'4" 520 lbs

Obey "STAY UP" (still up at time of writing)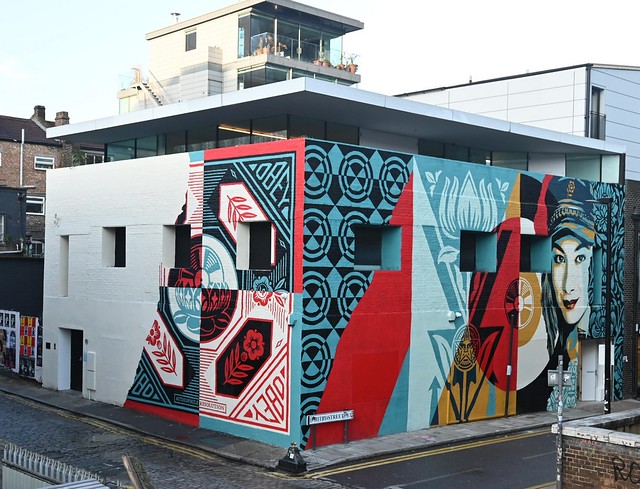 "Raising The Level", Shepard Fairey
2019 has been a huge year for climate awareness and environmental art. One of the most impressive was Mammon's creation of the Extinction Symbol using 1p and 5p pieces, intrinsic value not known.

Extinction Symbol, Mammon,
Said Dokins from Mexico returned to London with a trio of murals reflecting on the environmental harm man himself creates through his presence on the planet.

Poisoned Seed, Said Dokins
Bam Bam painted the next one in response to the shameful state supported torching of the Amazon Jungle. The next day, the newspapers quoted a US official as saying ""we don't think environmental protection needs to necessarily cost economic growth or energy security or dominance". Can these people look at what is happening in Australia and continue to deny that climate change is real?

Bam Bam Billa – Protect The Amazon
This Autumn Lady NoLions proposed the grandeur of Venice might be a nice thing to do as a street art free break, and indeed it was street art free apart from the exception mentioned briefly on this blog post. The highlight was finding Banksy in Venice.

Distressed Refugee Child, Venice, Banksy 2019
Dr Cream has spent the decade using his street art as the raw material for animations. 2019 saw the debut of two new animation pieces including the Drillbot right at the year end.

Drillbot, Dr Cream
We also love Dr Cream's Owl Lift which predicts the weather on Commercial St

Owl Lift – rain imminent; Dr Cream

Owl Lift – raining; Dr Cream
Sell Out's work leant more towards the oil pastel characters rather than the trash sculptures this year though he did change his name (butterflyman) and paid tribute to the two heroes of England's single stunning victory over Australia in the Ashes series

Ben Stokes 135 Not Out v Australia, Headingly 25 Aug 2019, Trash Sculpture Tribute Butterflyman

Jack Leach (Eng) 1 Not Out (most important 1 NO in history), Wax Crayon tribute Butterflyman (augmenting My Dog Sighs eyeball)
Graffoto's enjoyment of street art is sometimes biased towards photogenic creations but hopefully no one has noticed. One of the most delightful photos this year was provided by this gorgeous floral composition from This1 in Seven Stars Car Park.

This1, also feat ALO
Pez was in London in 2019 to celebrate 20 years of constant smiling and one of our favourite collaborations was this mural put together with Chicadania, Nylon and Schlomo.

Pex, Chicadania, Nylon, Slomo
Graffiti continued its rise and rise in Shoreditch with the Brick Lane railway bridge becoming an established piece spot having previously always been fastidiously buffed by the owner.

Real graffiti by (blush) REAL et al
Shoreditch boasts a lot of safe Hall Of Fame graffiti but one person who did endeavour to get up higher and less legal than everyone else was Artik, often in the company of Man or Atomic. Getting up with rollers is something that can be routine but doing it with the skill, style and reach of Artik is always impressive.

Man, Artik ltb. Also 1T

Man. Artik. Also feat Spat, Time, Jet wrh et al
Also at the wilder edge is Gorilas with his fist shaped throw which appeared everywhere. The quantity that impressed, and on a recent visit it was a pleasure to find a load more on the streets of Bristol.

UEYA Gorilas, Bristol
Also in Bristol, Greta Thunburg by Jody. Jody had a lot of impressive art up on Bristol walls butthis one was jaw droppingly world class.

Greta Thunburg, Jody, Bristol
Just to finish off, a selection of photos that just would have been pretty shit if not for the accident of the art and the moment combining to put them among my favourite shots of 2019.

2Rise Trexus collab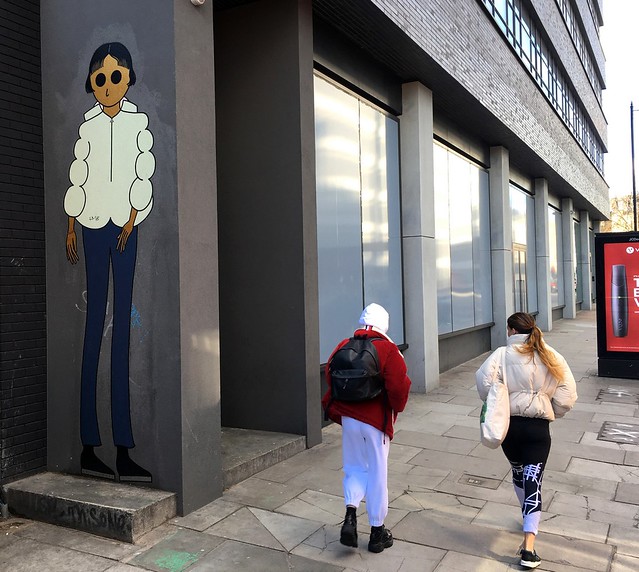 Kamlaurene

"Look Mummy, it's Spore"

Mary Anne Hobbs by The Postman's Art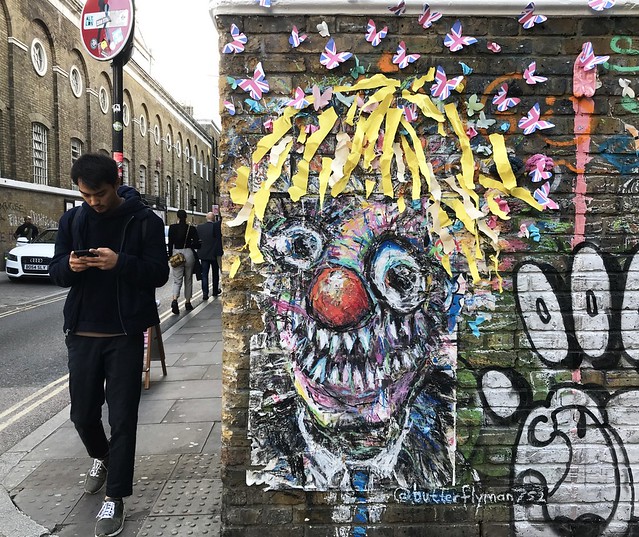 Boris Johnson by Butterflyman

Reves, Nerone

My Dog Sighs

Shok-1

Keith Haring, The Postman's Art


Ed Hicks Tony Busk Bleach Zadok Oust
(view LARGE)
The Nomadic Community Gardens sadly ended its Allen Gardens trackside existence after giving much joy with art, music, food and chill. The main wall hosted a lot of great festival art but photographing the last one was a nightmare as the garden closed to the public before they had moved the lifts from in front of the mural. Thankfully Hayley at Roving Café and ThisOne helped me get in there for a few proper shots right at the end.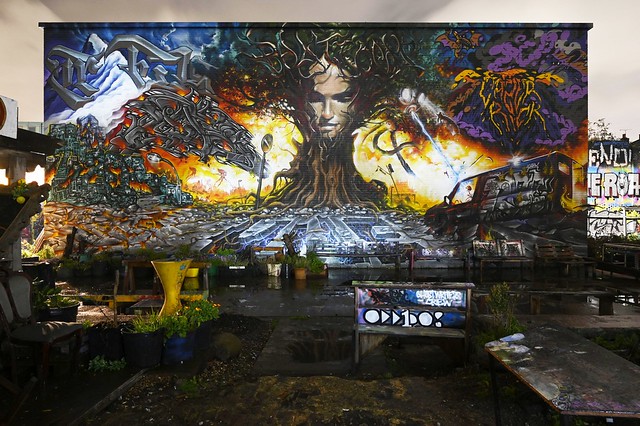 Trafik, Lifer, Tizer, Jim Vision, Balstroem, Vile, Cazer, Planet Rick, TwoRise
Dan Kitchener's geisha girl looked stunning at night on Brick Lane, Dan has been incorporating the visual tag aesthetic into his art and naturally more tags accrete onto his street pieces. He posted this photo to his Instagram and has this lovely response to someone who condemned people augmenting his art with further tags: "it is the reality and nature of street art and so best to be accepted and embraced – I actually enjoy this process with this piece as it becomes part of it ". True words spot on!

Dan Kitchener & additional tags, Brick Lane
Finally to conclude with my favourite shot last year. Started on a roof with a blank canvas, ended up with some colourful collaborative art and a bunch of poseurs. Fun year, fun times.

Knapple, Rowdy, Sweet Toof poised

Knapple, Rowdy, Sweet Toof posed
All photos: Dave Stuart