"We can't throw away all our hard work so far". The current political aversion to trusting the general public with any inkling of lockdown planning could perhaps also be applied to the rich heritage of Shoreditch's street art. This is the 5th compendium of the daily scrapings of the digital archive, is it really only 5 weeks since we were ordered to remain in our bunkers?
Gold Peg was undisputed queen of the rooftop. She got up in pretty tense spots, happy to mark the environment with text or imagery, a rare example of someone with a foot in both the graffiti and street art camps and hugely regarded in both. Gold Peg's art was always breathtaking and photogenic, this artist is a classic example of someone impossible to adequately represent in just a couple of images.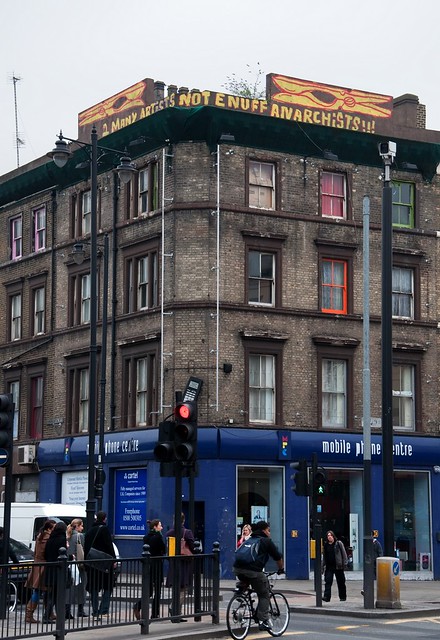 "Too many artists, not enuff anarchists!!!", Goldpeg, Shroeditch, 2011
This railway bridge pic also features 10foot (naturally), Serva, aze, rakit and the legend that is TOX trackside.

Gold Peg et al, Paddington, 2010
Everywhere you went in Shoreditch in 2012, Usain Bolt's eyes seemed to follow you. Painted by the genius JimmyC.

Jimmy C aka James Cochrane
That photo of JimmyC's Usain Bolt has a van in the foreground which was obstructive, irrelevant and the photo is poorly composed. Every other photo I took of that mural has a superb Dan Kitchener mural below the JimmyC. Both paintings were brilliant, each distracted from the other in a kind of unfortunate way. Dank's refined and distinctive geisha girls and his drippy Bladerunneressque neon night scenes are rightly revered these days though if you go back more than a decade he had quite a variety of quite different styles. Dank's mural under the JimmyC was one of a number of brilliant trackside images he painted in 2010, the next image was painted on the Village Underground wall in that same style.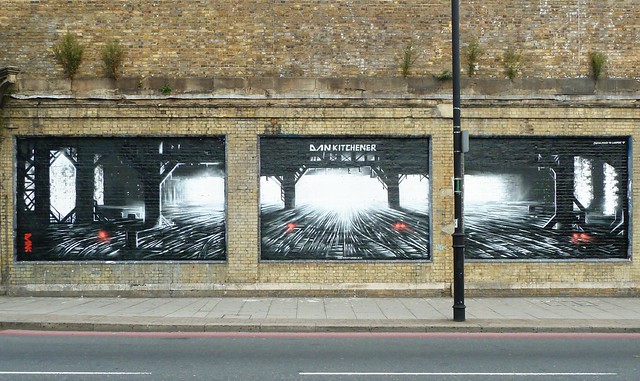 Dank aka Dan Kitchener, 2010
Remember your parents nagging you to stop staring at the pavement? If you listened to them you'd have missed Pablo Delgado's miniature paste ups with painted shadows. Over several years he pursued increasingly surreal themes, Pimps 'n Hos in Shoreditch was one of his early sets. Yes, that's Skewville and Banksy hangin' with the pimps as well.

Pablo Delgado, 2011

Pablo Delgado, 2011
In August 2011 Pure Evil had a show at XOYO debuting this pop art eye candy, the first sighting of the Nightmare series. This was one of the first specimens to appear on the street, October 2011 I think. And so it continues, the Nightmares pour out of the Pure Evil creative engine to this day. Also in shot is a beautiful Swoon paste up. A couple of Swoon pasteups in this alleyway in Shoreditch lasted quite a long time, like more than a year. Partially visible is a pasteup from Mr. Farenheit and yet again a Skewville stencil muscles into the frame.

Pure evil, Swoon 2011
Mobstr does a line in knowing and occasionally provocative text based stencils. You could read this as street artists with easy, low risk placement are challenged by Mobstr to get a bit higher and a bit riskier. Or maybe you see Mobstr proposing a photogenic "loadsa-likes" placement spot; or we can even see a commentary on street art as a tool of gentrification doing the developer's bidding. All interpretations equally valid, feel free to make up your own.
As an aside, in 2011 Brick Lane was named London's Curry Capital which is about as obvious as declaring Pall Mall the capital of palaces. The Banglatown banner with its photo of the later discredited Tower Hamlets crooked Mayor Lutfer Rahmen appeared illegally over Roa's famous crane on nearby Heneage St, much to the annoyance of local residents and business who forced the council to have the banner removed within 2 weeks.

Text stencil by Mobster, also featuring Kata, Unga, Andalltha and The Misfits
France is blessed with superb stencillists, Jana and JS have done Shoreditch a few times and when they do Shoreditch, they leave the place seriously more beautiful. This example is slightly unusual in being a stencil on paper rather than stencilled in situ on the wall.

Jana and JS, 2012
Anyone finished Instagram yet? Check out the previous weekly compendiums: DITA 1, DITA 2, DITA 3 and DITA 4
Art credits and links are by each photo. All photos: Dave Stuart