Is there light at the end of the tunnel? By the time you read this Boris should have made his "statement" to the nation and one suspects the tunnel will seem to be stretching much much further into the distance. Activities continue to expand to fit the time available and blowing the dust off the photo archive is a good a rabbit hole as any to fall into, so here is this week's selection of gems from the past.
You wouldn't bat an eyelid at a snorkeler (snorkelist?) walking down the road with a lion on their shoulders in 2013, it was Shoreditch after all. Twisted surrealism from Dal East.

Dal East, 2013
ACE is full OG London, his comic and pop art influenced collage screen prints were pasted up all over Shoreditch from the beginning. They still appear although nothing close to the quantity he used to put out. One of my all time favourite paste up artists. And there's Skewville , yet again, he keeps popping up in the archive photos. 2011.

ACE, 2011
In 2009 Graffoto founder HowAboutNo and I wandered Shoreditch and beyond on our lunchbreaks, chatting shit and shooting crap. Daytime street art creation was quite rare in those days and one lunch time we spied an artist in act of pasting up some big faces. He scarpered. Brummie Tempo33 told me a while later they had thought we were cops! Not many people wandered round in office garms photographing street art those days.

Tempo33, 2012
As I started to develop a little bit of an interest in street art I had a conceptual difficulty with stickers;,that fact that anyone could have put them up challenged their authenticity. Then I started to get my head around "Representation". It would be very easy to upload a photo of a stunning mural by D*face, rightly they are appreciated worldwide but his stickers are in my humble opinion are way more significant to his street presence.
Liskbot's hand finished stickers and paste ups go back a decade, still prolific!
The unknown sticker looks and feels like a corporate logo.

D*Face, Liskbot 2011
East London in 2011 was full of Malarky cartoons. Superficially they had the characteristics of children's illustrations but close inspection revealed a real darkness. Often painted with compadres #Billy, Mr Penfold and Sweet Toof. These old Hanbury Street gates used to host art by great artists such as Donk , Stik, a Saki and Bitches and Macay collab, a Mau Mau and Alex Face collab and an Otto Schade "Creation Of Adam" masterpiece. And Curly 😉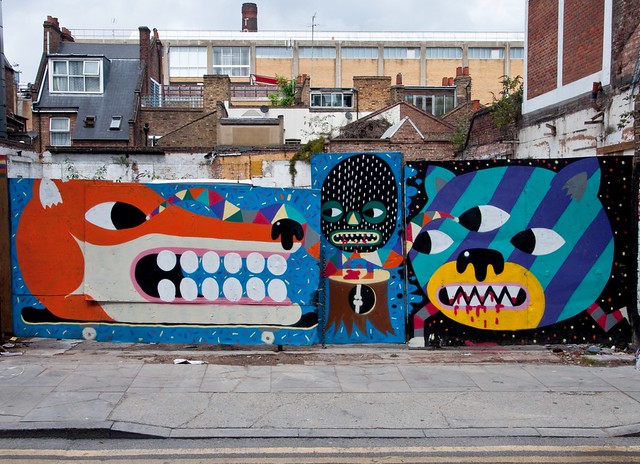 Malarky, 2011
In the next pair, the elevated elevation behind the grey gantry is the old Shoreditch Tube Station, closed in 2006. The first picture is from October 2011 and features a Rowdy creature and a piece by fellow Burning Candy crewmate Horror. The second picture dates from July 2012. The difference is the Olympics buff. One of these pics cost me a gorgeous Colnago Road bike, stolen by some Tower Hamlets low life cunt as I climbed up on the wall to get the pic
I am sure you don't need reminding, #fuckthebuff

Rowdy, Horror 2011

The Olympics Buff, 2012
When its good, Street Art can be very "of the moment". The flip side is that years later the context or relevance of a piece of art may be forgotten. This Teddy Baden multi layered stencil features Mandeville, one of two mascots for London's 2012 Olympics. Mandeville was named after Stoke Mandeville Hospital, the world famous spinal injuries hospital that organised the first games festival for injured people, seen as a precursor to the Paralympics. The orange flash represented a London taxi hire light. Mandeville was much maligned in the press, there will always be some mirthless killjoy. He didn't have a good feeling about Teddy's feline either.
I enjoyed the privilege for many years of submitting a selection of street art photos to the VNA guys for their quarterly zine. The vast majority of them went unpublished, there were far better photos from far better photographers to chose from. This is one of the unchosen. . . .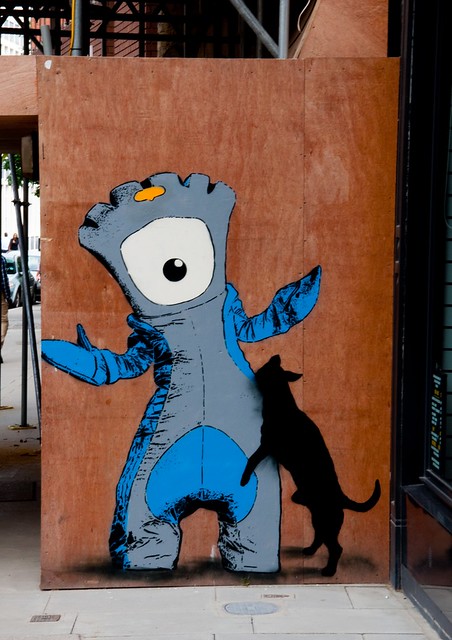 Teddy Baden, 2012
I took the liberty of visit to Shoreditch on my bike this morning, first time in over 2 months. Very little had changed, street artists have been socially distancing from the walls. Notwithstanding whatever guff we get from Boris this evening I suspect there may well be more sucking from cess pit of my street art photos this week, catch them daily on my Instagram or facebook
Check out the previous weekly compendiums: DITA 1, DITA 2, DITA 3, DITA 4 and DITA 5
Art credits and links are by each photo. All photos: Dave Stuart