Never in history have the words "relax lockdown measures" been so badly abused. Please stagger your viewing of this post and share with only one person outdoors. Here are this week's street art little gems from the past.
Jorge Rodrigues-Gerada is probably more widely known these days for his enormous land art portraiture but in 2012 London was blessed with a number of works by Jorge. This beautiful 2012 charcoal portrait was ludicrously short lived.

Jorge Rodrigues-Gerada, 2012
Cartrain was a marmite kind of artist, people either loved him or hated him. I had got pretty fed up with him constantly hitting up stencils right onto the edges of Banksy stencils around Shoreditch. Then in 2007 he came up with these collages, a massive transformation. The first few had proper gilded picture frames and he added spoof Perspex gallery labels alongside them though I guess the logistics of economically sourcing frames led to the cardboard cut out frames. I thought it was brilliant, others struggled to make sense of the random meaningless combination of images. Then came his appropriation of Hirst's diamond skull and that evolved into a whole other drama of its own. These unusual diptych framed specimens here date from 2011.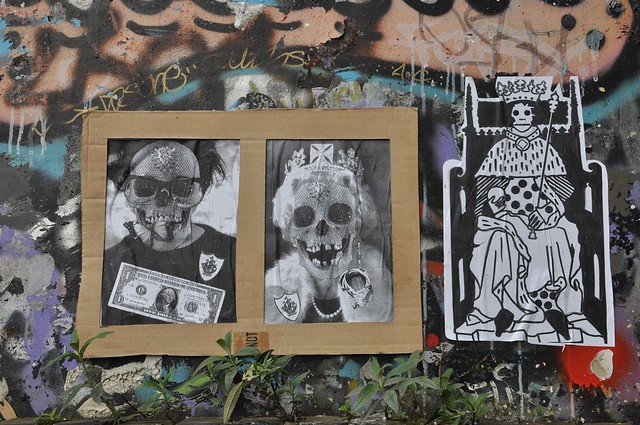 Cartrain, 2011
There is nothing quite so exciting as a good hack of the corporate intrusion on the visual landscape. Meaning, ad busting rocks and Vermibus is a master of the form. In 2012 Vermibus was one of the key participants at Moniker Art Fair which in those days was still based in its original Village Underground location. This advert box, not far from Moniker, is a single purpose intrusion into the public pathway, it's an illuminated obelisk straddling the pavement angled for visibility to car and bus occupants.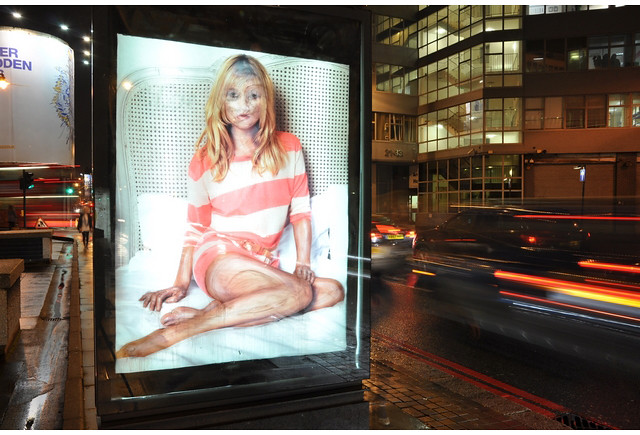 Vermibus, 2012
The second image is a collection of keys for illicitly accessing the different forms of those advertising spaces displayed by Vermibus at Moniker. Fuck corporate privilege, subvert its purpose.

Vermibus at Moniker, 2012
Remember Ai Wei Wei was placed under house arrest in China in 2010? In April 2012 I chanced upon this Free Ai Wei Wei stencil by Bambi sweetly captioned "You can cage the singer but not the song". This photo is out of focus, the lighting is shite and composition is abysmal but when you want to photograph a piece of street art you stumble on en passant, you make the best of whatever light and technology is available. In this case, it was the shittiest out of date corporate Blackberry with a camera not much more advanced than a pinhole and the Guinness enabled focussing feature selected. When I returned in daylight with a proper camera a few weeks later it had been buffed.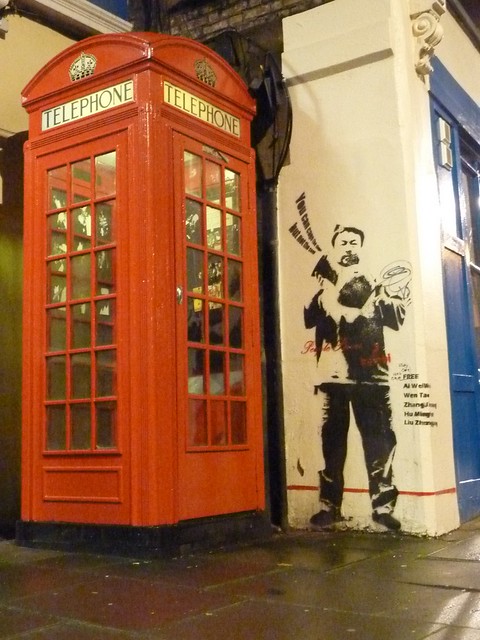 Bambi, Marylebone 2012
Lovepiepenbrinck shared her time between Hamburg, Berlin and London and for years put out a series of piggies each presented as a different character. The piggies were quite small, often they were high up and sometimes completely hidden in dark spaces. Finding the piggies was like a treasure hunt. This example was the Ronald McDonald piggy obviously. One piggy was disguised as a shark, mounted in a small glass cube and glued to the outside of the Tate Modern in 2012 when Damien Hirst had that huge show there. Its title was "The physical impossibility of being a shark in the mind of a pig". Street art genius! (And I never got to see it for real, security had it removed very quick).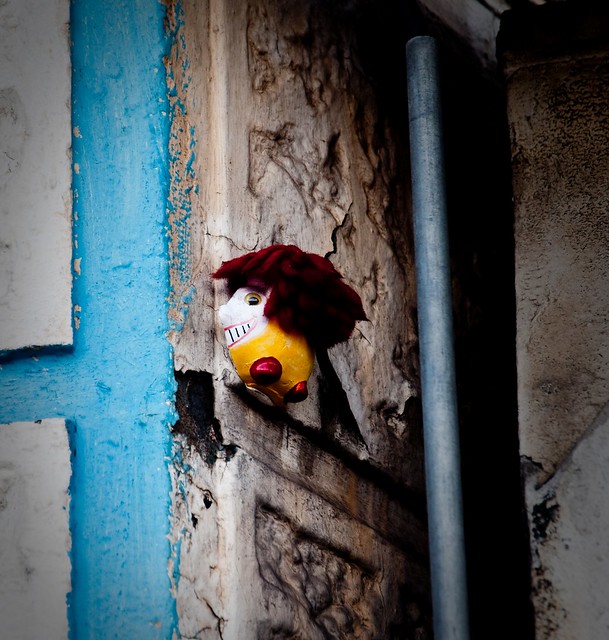 Lovepiepenbrinck, Commercial St 2013
Stay alert! You have nothing to fear in isolation except Skeleton Cardboard's morbid dancing skeletons. These used to appear in many imaginative forms, often interacting with the fabric of the wall or as a response to existing artworks. Dem bones were guaranteed to raise a smile . . .

Skeleton Cardboard, 2013
Nether's street art first appeared in London in 2012. When he returned in 2018 his style was dramatically altered, though those distinctive planes remained a feature. Also sneaking into the margins of this this photo are an awesome piece by Mr Wany, a detail from the edge of a Pez mural also dated 2012 and the conceptually brilliant pulse of EKG from New York.

Nether, 2012
It looks like the archives are going to be forked over for some time yet, each one of these photos reveals itself like a little speck of glass in an ankle deep farmyard.
Two months intensive use of the internet means you don't need to be told where to find the previous selections of archive gems, but here is where it began with the first weekly compilation of the daily uploads: DITA 1,
Art credits and links are by each photo. All photos: Dave Stuart