As we slide through the holiday period, unsure of what day it is and absolutely no idea about the date, our only grasp on the sludge of events we are laying down and will call "history" is that something happened yesterday or 3 days ago, whatever day or date that was. The other evening we partied like it was 2019 and then suddenly, just like that, it was 2020 and that previous decade was done.
Graffoto has indulged in series of reminiscences over the past couple of weeks, whatever dates they were, looking at the stuff that blew our socks off over the past decade. Like the previous posts this one no particular order, no implied ranking and there certainly is no logic.

A Bun In Their Hair, ALO, Shoreditch 2014
Working on concrete is obviously rather common in street art and although the German artist EVOL isn't actually a sculptor the scale distorting effect of his stencilled miniature ghetto installation in 2011 complete with cheeky references to some of his hosts in London was pretty unique and uniquely pretty.

Unsocial Housing, Evol, Smithfield Market 2012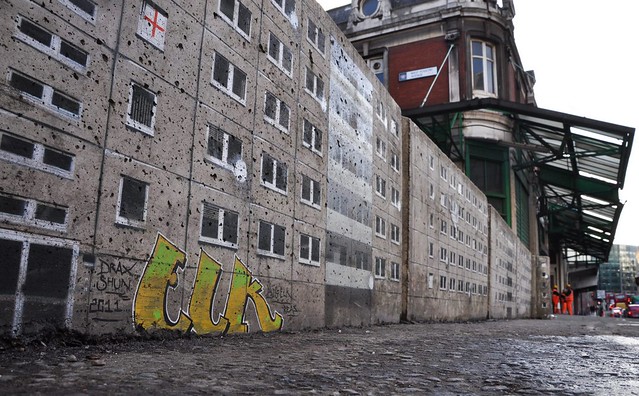 Sink estate with mini Elk, Evol, Smithfield Market 2012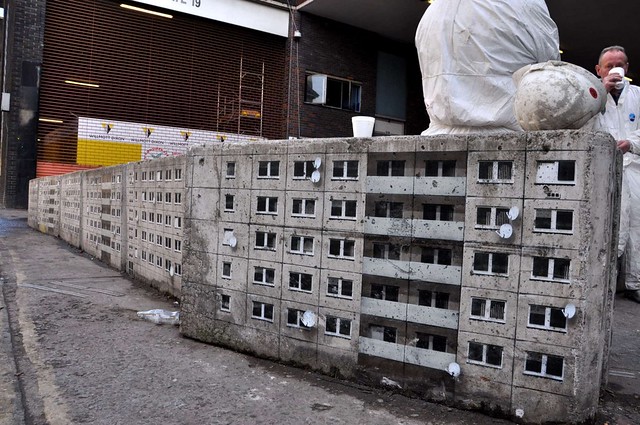 'ave a butchers, Evol, Smithfield Market 2012
Novelty makes strong memories, some street art we are reminded how great it was as they surface while flicking through the archives, others acts of genius like this next one spring to mind unprompted. Mustafa Halussi did a conceptual hijacking of the flyposting tradition by co-opting flyposters into a random artistic display titled "Flyposting – A retrospective". In fact Halusi's actual physical contribution was just the title. This did tie in to his gallery exhibition of the same name and harked back to his career as an illegal flyposter, no flies on this guy when it comes to squeezing commercial value out of street art. The street display included an auto rehang mechanism which kicked in when the flyposters under Halussi's exhibition label changed.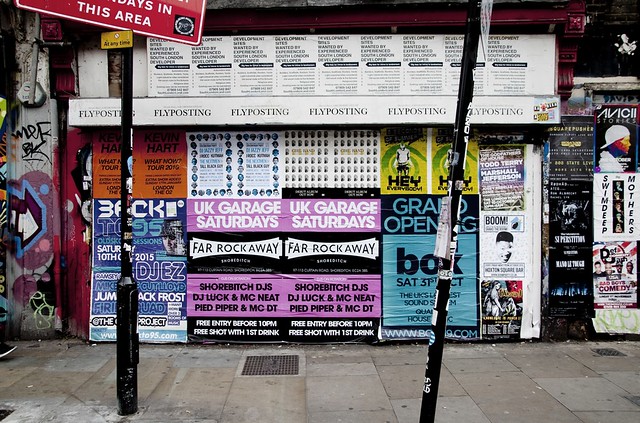 "Flyposting: A Retrospective", Mustafa Halusi, Shoreditch 2015
On the roof of the long lost Cordy House, Chu painted an extraordinary trick-of-the-eye piece where London's underground system blasted straight into a scene out of China. The image fused visually with an actual building in the background whilst the bulk of the painting was on a rooftop house structure which Chu's artistry totally flattened.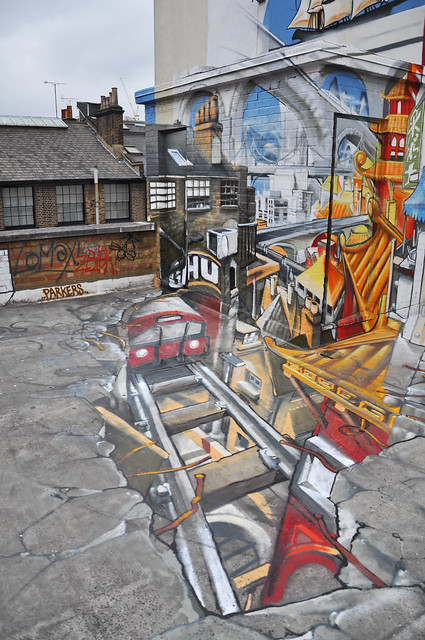 Chu, Shoreditch 2010
ROA painted a lot of "virgin" walls in Shoreditch in the first half of the decade and his bedraggled grubby animals always looked like they belonged exactly as and where he placed them.

Roa, Brick Lane2010. Also feat Stik and Illjoseph

Thirsty Rat, Roa, Whitchapel 2010
French stencilists brought beautiful multi layered stencil portraiture over to London, Jana and JS visited several times and created some beautiful pieces of art.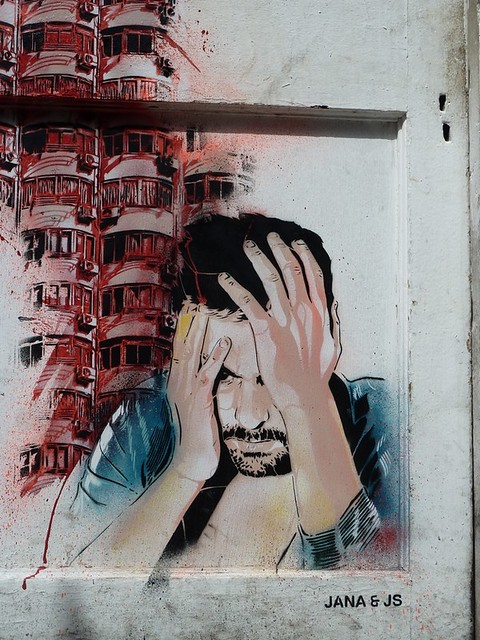 Jana and JS, Brick Lane, 2012

Jana and JS, Brick Lane, 2012
American artist Mando Marie also visited London a few times, her stencilled tension between a clichéd wholesome innocence pitted against threatening beasts always welcome, seen here over a background of Jana by Jana and JS.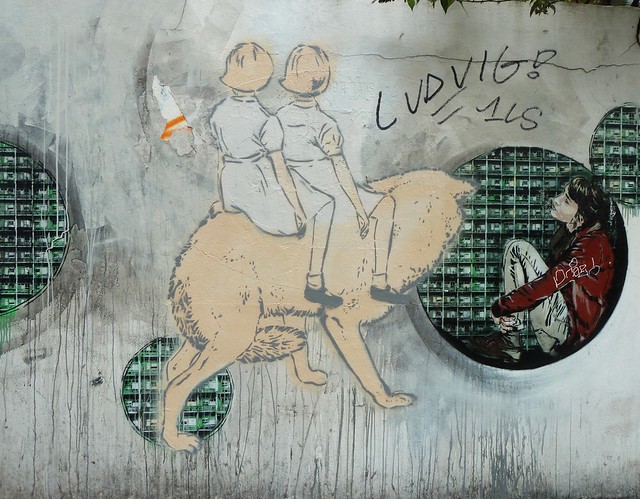 Mando Marie, Jana and JS, Shoreditch 2013
One artist who spanned most of the decade with distinction in terms of the quantity, variety and quality of street art was German artist Mr.Farenheit. He incorporated many different art styles into his street art and left some of the best "found art" out there for fans to discover and take home. He is genuinely missed following his decision along with his partner Lovepiepenbrinck to quit street art a few years ago.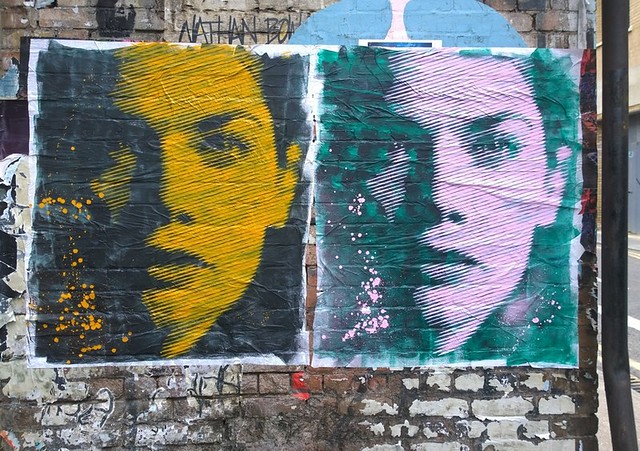 Mr Farenheit, Spitalfields, 2015

Free Art, Mr Farenheit, London 2013
London Street artist Stik demonstrated many times that great art need not be complex. From many candidate photos of lovely pieces produced over the years, this piece from Winter 2012 brings to mind the "Walking In The Air" song from The Snowman animation while making lovely use of the arched architectural features.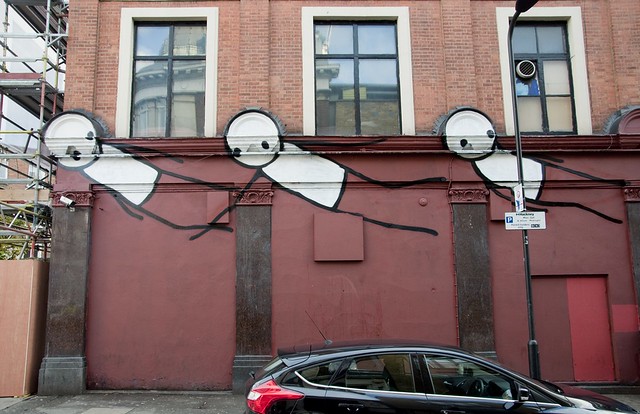 Stik, Hoxton 2012
Paolo Cirio had an interesting idea to populate the streets with blown up print outs of people captured on google street views, completing a circle bringing people back from the virtual world to the real world at the spots where they had originally been photographed. Not sure who had the idea first but we did see other artists running with similar concepts after that.

Street view peoploids, Paolo Cirio, 2012
Another favourite artist who beautified London streets through the whole decade has been ALO, originally from Italy. He started with small paste ups but soon moved on to painting multi-layered tribal influenced portraits and figures, not to mention a couple of solo shows at the Saatchi Gallery.

"Wino", ALO, alongside a lovely collab Brazilian street artists Alex Senna and Cranio, 2013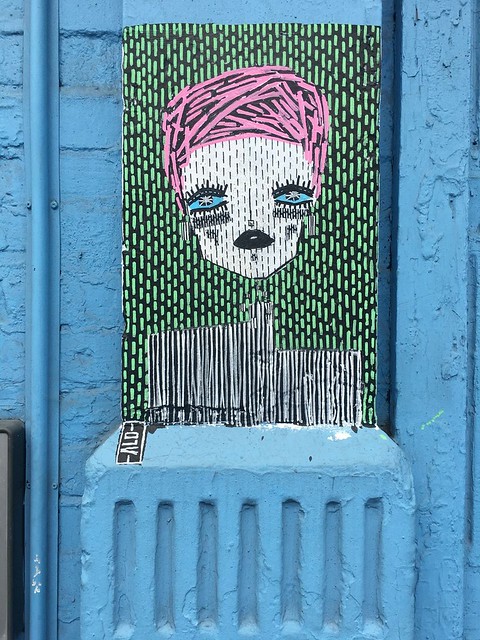 ALO, Shoreditch, 2018
French street artist Clet Abraham has been a regular visitor and has spread his traffic sign subversion far and wide across London. Size isn't everything, it's about clever interactions with the authority's installations.

Clet Abraham, Putney, 2014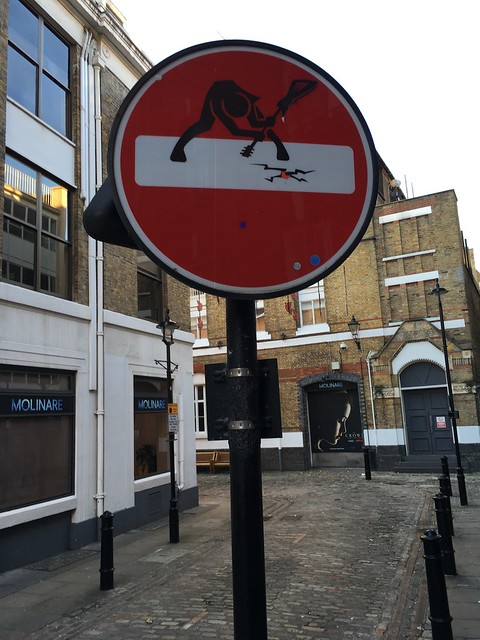 London Calling Clet Abraham, 2016
The artist 616 produced a stream of inventive fascinating street art artefacts from a tremendous variety of unconventional materials. He is one of those artists whose every new direction made you think "wow, that's clever".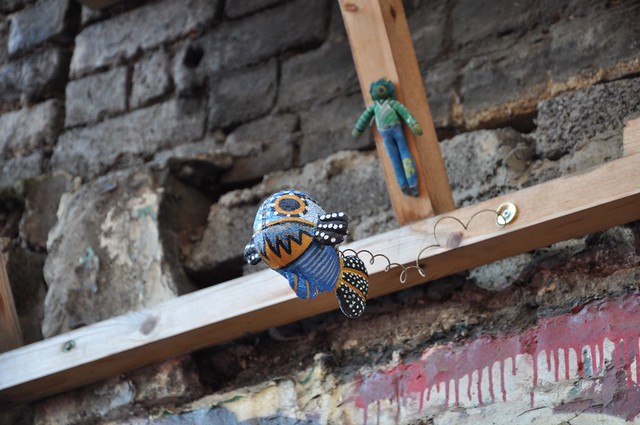 616 hanging around, Shoreditch 2012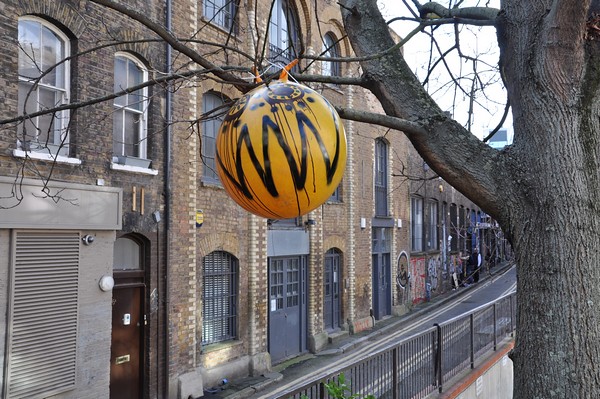 Space hopper tree, 616, Shoreditch 2014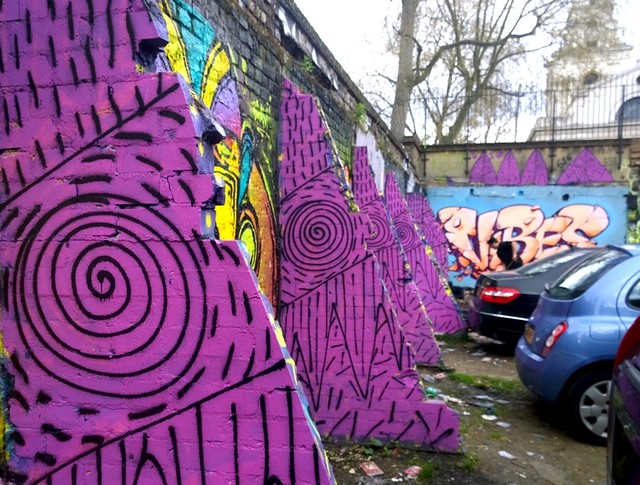 Plum Your Buttresses (every one else painted the wall panels!), 616, London 2016
In 2015 Victoria Villasana collaborated with photographer friends to install beautiful tinted photographs embroidered with colourful threads in a traditional Mexican style. Subjects ranged from celebrities to refugees and Villasana redefined yarnbombing.

Celebrating empowered women, Villasana augmenting Betty Page phone box by D7606, 2015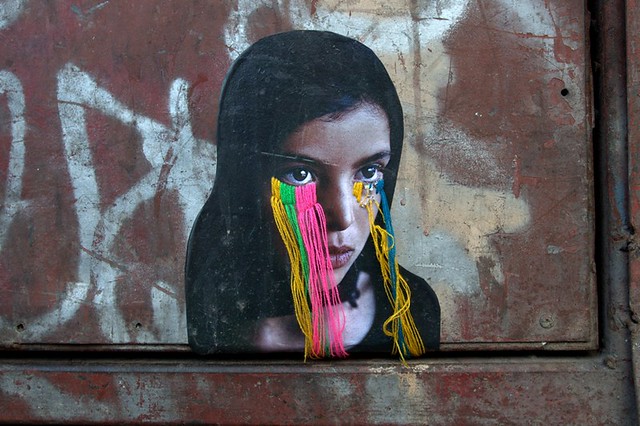 Victoria Villasana London 2015

Victoria Villasana & Reuben Dangoor, Shoreditch 2016
Adbusting is one of our favourite forms of street art. In 2012 a group of street artists hijacked a series of billboards around the world in a coordinated No-ad Brandalism campaign and over the decade we saw many examples of successful hijackings of illuminated street advertising frames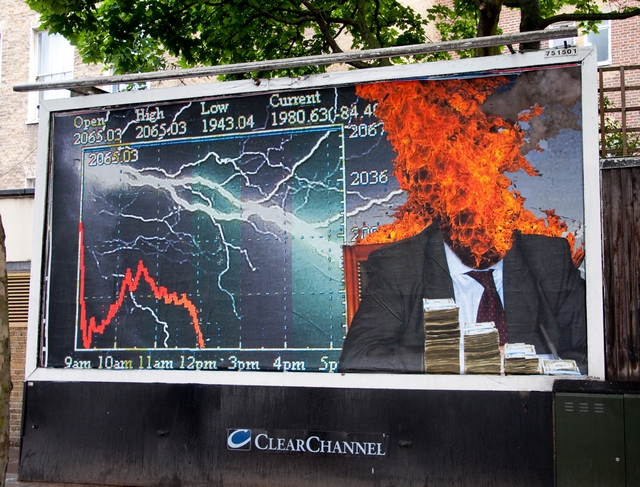 Brandalism, KennardPhillipps, Kings Cross 2012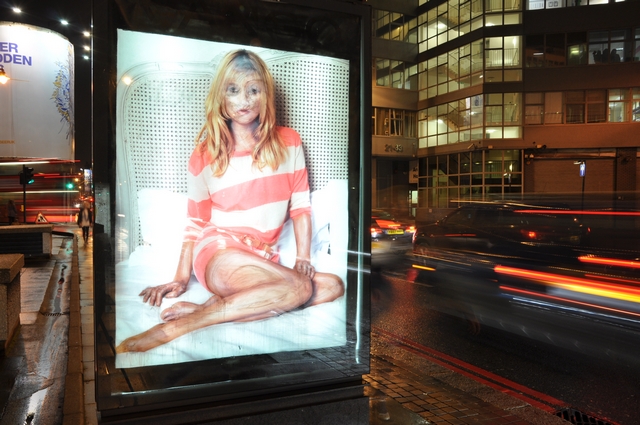 Vermibus, Shoreditch 2012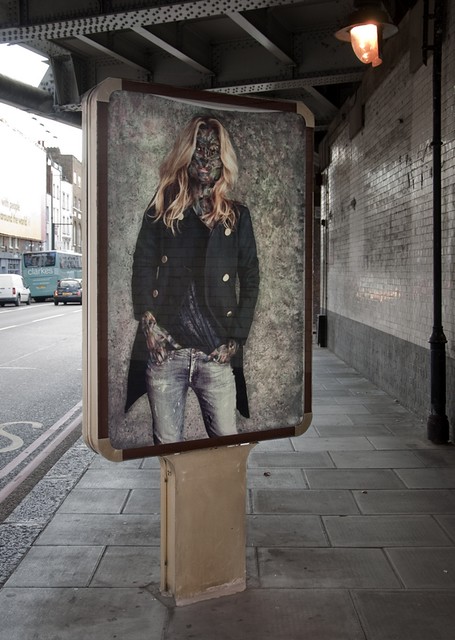 Vermibus, Shoreditch 2015
Advertising Shits In Your Head was ironically an advert for a book on the political tyranny of mass media advertising but Protest Stencil always produce very impressive bus stop takeovers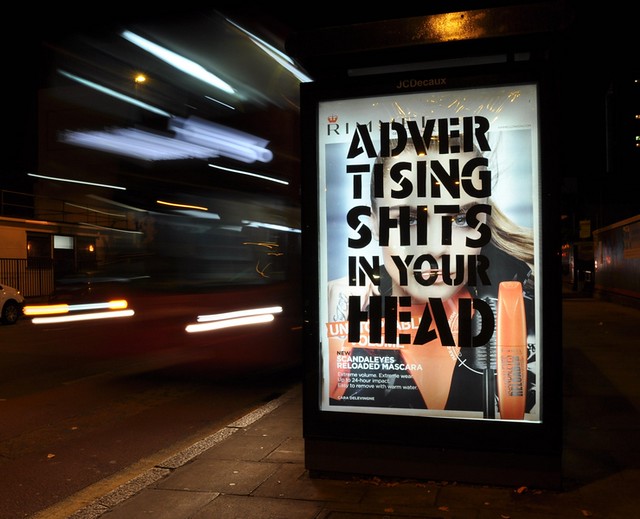 Advertising Shits In Your Head, Protest Stencil, Islington 2016
For advert subversion, Art Is Trash completely destroyed these overtly and excessively exploitive adverts, the detail is just crazy!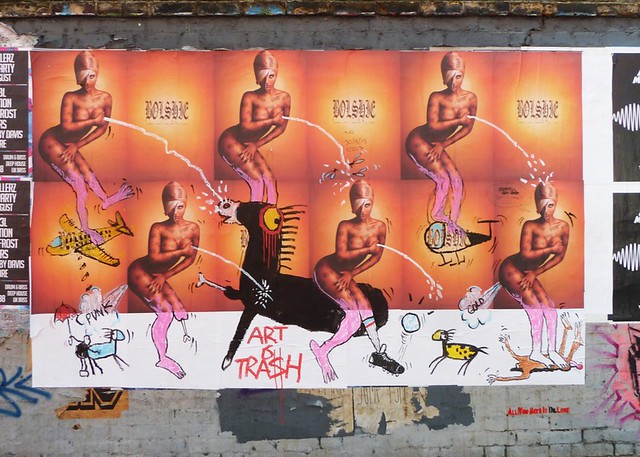 Art Is Trash v Flyposters, Shoreditch 2013
If quixotic and unconventional floats your boat, how about artists placing genuine antique Victorian pennies out on the streets? Quiet British Accent are known for the colourful political angle they bring to prints of vintage pre decimal pennies but the first intriguing specimen of their art we found was an anonymous "Free Art" Victorian penny hiding behind a pipe on a back street in Shoreditch. The longevity of another quartet of Victorian pennies painted, coated in resin and still sticking in their original home on a wall in Shoreditch some 5 months on is only just a little short of miraculous.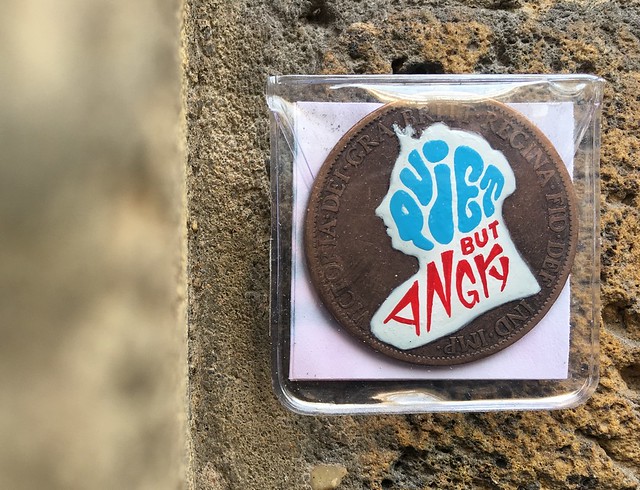 "Quiet But Angry" Victorian Penny, Quiet British Accent, Shoreditch 2018

"Change Is Gonna Come", Quiet British Accent, Shoreditch 2019
London based artist This1 first came to everyone's attention in 2015 with what were little more than illustrations in architectural niches. Froms such small beginings he has gone on to produce some amazing large scale street art including the longest continuous shutter mural we have ever seen. Yes, This1 should certainly have been included in the Decade of Murals post a few days ago.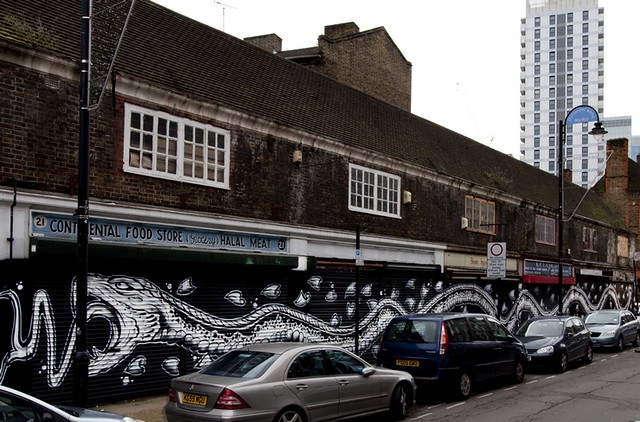 Shutter Snake, ThisOne, Whitechapel, 2016
Dr D used many forms of street art across the decade to make witty political points, his subversion of London's congestion charge zone as a social exclusion zone was clever but in particular the "cojones" involved in the daylight installation of a satellite dish on a building which until it housed a 3 story wrapround digital advert screen was known for its privacy, its high security fencing and a zero tolerance of street art was awesome.

Social Cleansing Zone, Dr D, 2015, multiple London locations

Sly TV, Dr D, Shoreditch 2016
The only way to bring to a close this dredging up of our favourite specimens of wild outdoor art is to look back at what Banksy has been up to. Although Banksy produced far less street art in the past decade than in the noughties, on almost all respects other than quantity he continues to be the most important, brilliant and relevant artist in whatever field he chooses.
Banksy's Better In Than Out in New York saw a month long treasure hunt – "hide and seek" combo which cast Banksy as Bonnie And Clyde against the NY mayor, police and press and the world watched with glee but we already knew Banksy would never be caught.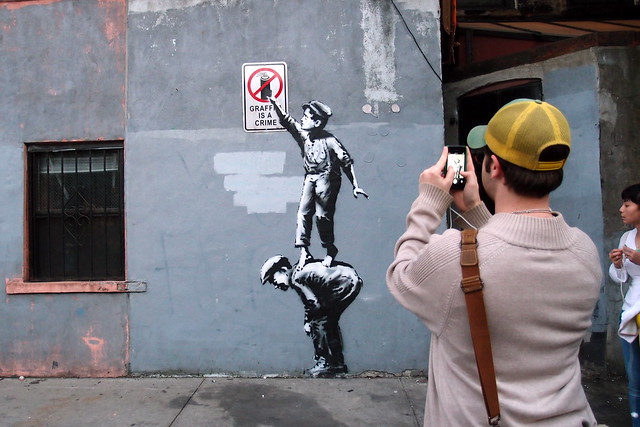 Better Out Than In, Banksy, New York October 2013. Photo by LunaPark
He also had a major art triumph staging a group shop with a conscience at Dismaland though we already knew Banksy did extraordinary/exhibition experience fusion.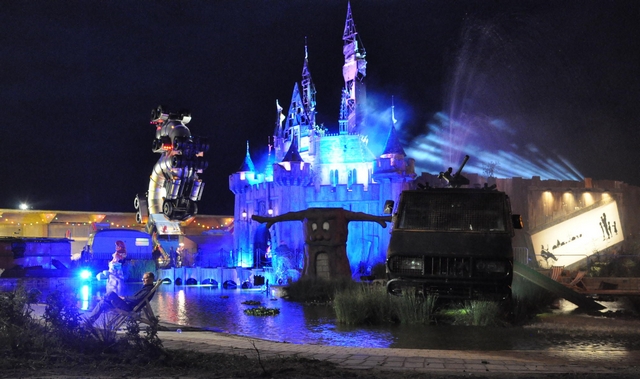 Dismaland, Weston Super Mare, 2015
He created a huge political mural in Dover in 2017 but we already knew Brexit was a stupid idea.

EU Flag Update, Banksy, Dover 2017
My favourite Banksy of the decade however was his Les Miserables in Knightsbridge, London's embassy land. It has the Banksy signature elements, it had the cleverness in repurposing the iconic image of Cosette, it had the impact in terms of global exposure, right opposite the French embassy it combined perfect placement with the "wow, how did he get away with that" element. We did not however know about the French police tear gassing migrant families in the camps in Calais and this was Banksy's crowning achievement, bringing that shameful episode to wider international attention.

CS gassed Cosette, Banksy, 2016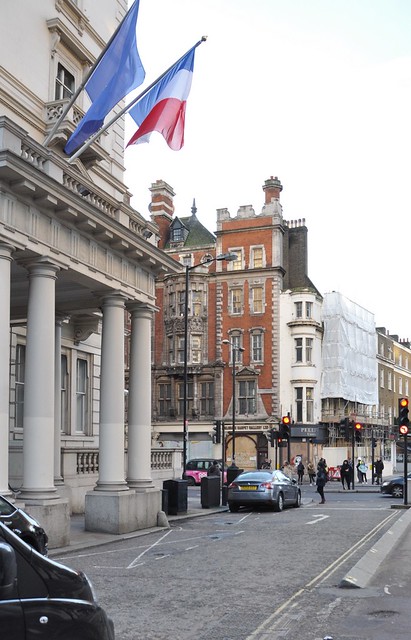 Placement! Les Miserables v. French Embassy, Banksy, Knightsbridge 2016
Much as it has been a pleasure trawling back through the personal collection of photos and reminding ourselves what our memories should be, at some point a line has to be drawn. Or painted. Every time the photo collection is reopened something else on the screen screams for inclusion. Accidental omission or unavoidable exclusion is a shame and so Graffoto apologizes to all the other brilliant artists who made 2010 – 2019 a brilliant decade and ought to be here but sadly aren't.

You Have A New Memory, Dr D, Shoreditch 2018
LINKS
All photos Dave Stuart except LunaPark where noted
This series of reviews started with an examination of street art at the beginning of the decade: Graffoto 10 year Review Intro
Next came a review of 10 years of murals
On Christmas Day we slipped in an unscheduled flashback A Decade On – King Robbo
Then came Political Street Art of the 2010s Decade
Most recent, 2010-2019 A Decade of Street Art Sculpture
Also worth checking out are all the individual annual highlights of written (nearly) every year:
Graffoto's Roundup Of The Year Part 1 2011

London's Street Art 2013 – Nostalgia is so last year
London Street Art Highlights 2014
So 2016
2017 – Bigger, Better, Banksyer!
Back In The Day 2018